In certain parts of Denmark, people can still have a closer look at landmarks such as burial sites and artifacts including the famous long boat of the Denmark Vikings.
It's well-known that Denmark is known as the Viking country. It's here where you can still experience what it was like during the Viking period.
The History of Denmark Vikings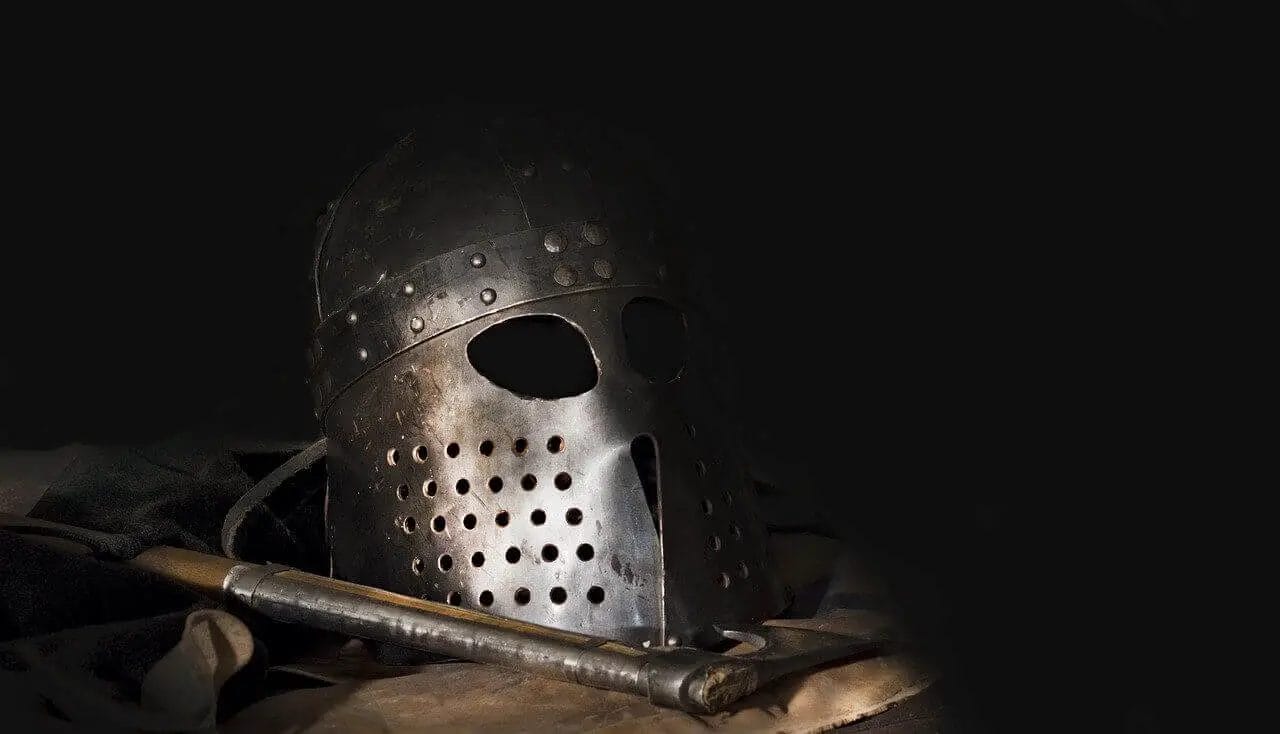 The Danish Viking age is from 800 to 1050 AD. The Viking attack on the East coast of England is considered as beginning of the Viking age in 793. Viking ships landed and Denmark Vikings stormed the Lindisfarne Monastery and plundered the church.
During the following three hundred years, the Denmark Vikings played a prominent part in many important events in Europe. In their open square rigged vessels the Denmark Vikings plied the coastal waters of Europe. The word Viking is seen on several contemporary Scandinavian runic stones, probably in the context of "battle at sea".
The Danish Vikings went on raids and trading expeditions down the European coast. They went to England and Ireland and around the Baltic Sea. The capital of today's Estonia is called Tallinn, which means "Town of the Danes".
They sailed:
down the French coast
around Portugal and Spain
through the Gibraltar Straight into the Mediterranean Sea
and along the Northern coast as far east as Constantinople
Constantinople, today's Istanbul, the capital of the East Roman empire at the time.
Denmark Vikings Culture
The Viking culture was influenced by the difficult living conditions dictated by nature and the competition between Viking tribes. Apart from being known as warriors, the Denmark Vikings were highly skilled traders. They had trade connections around most of their known world.
Vikings were often invited to settle where they came to let the local community benefit from their trade skills. Vikings had a strong sense of honor and competitiveness. Death was not important to the individual.
His reputation and the reputation of his family was all-important and everything. Happiness was to have other Danish Vikings remember the Viking's and his family's name forever. After his death because of his deeds.
Danish Viking Helmets
Viking helmets were made of iron and was in the shape of a rounded or peaked cap made from four plates. The only found Viking helmet has a rounded cap with no horns on top. And has a guard around the eyes and nose, in addition to a possible mail aventail.
From runestones and other illustrations it is known that the Denmark Vikings also wore simpler helmets. Often peaked caps with a simple noseguard. Unlike what is often shown in popular culture, there are no sources that prove that Viking helmets had horns mounted on them.
Denmark Vikings Ships
the Vikings were known to have traveled on ships called Dragon Ships with a distinctive dragon head or circular object at the front and back.  Their ships were of different sizes. The knarr which is German for ships was used for transporting cargoes weighing up to 24 tons. The smaller ones were called karves used to transport people as well as livestock and goods.
Travelling on Scandinavian mainland was difficult because of the vast forests that covered it. The Denmark Vikings overcame this by building great ships. The Vikings used the seas and rivers as their highways. They put their towns, markets and fortresses near water, giving them easy access to the sea.
Reconstructions of Viking ships today have  demonstrated something interesting. The Viking ship was as or even more seaworthy and easy maneuverable than the last sailing ships that were in use before steam powered boats took over from sail ships in the 20th century.
To see remains of this traditional Scandinavian boat the Viking Ship Museum in Roskilde, Denmark is the place to go. There you can see how it's made. You can even try riding on one of these ships from the viking museum Denmark harbor on Roskilde Fjord. And practice your rowing skills.
The Denmark Vikings Chronicles
The summer season is an ideal time to experience The Viking Chronicles. This is a theatrical performance that reenacts the journey of the Danish Vikings in the olden days. It's normally being held at an open-air amphitheater in Jels. This has been going on since the year 1977 and it even features the very popular Viking long boat on the Jels lake.
This unique performance involves spectacular scenes including sword fights as well as colorful costumes. The amphitheater where the play is enacted has been in existence since the 1950s. It can accommodate some 1,500 people in one performance.
The Viking Age is from the late 8th to the mid-11th century. It is considered a major part of the medieval history of several areas in Europe notably Scandinavia to include Denmark, Norway and Sweden, Britain and Ireland.
Visiting Viking ship museum Roskilde & more
The Denmark Vikings were referred to as warriors, merchants and pirates who sailed on their unique boats. They raided, traded and settled in a large part of Europe.
If you'd like to explore more Viking sites across Denmark, here are some you can visit:
the Viking Ship Museum in Roskilde
the Ribe Viking Center
the National Museum in Copenhagen
the Jelling Stones in Jutland
Trelleborg in Seland
Ladby Ship in Funen and
Lindholm Hoje in North Jutland.
And while you're anywhere near Aarhus in Denmark, it might be a good idea to check out the Moesgaard Beach for the Viking Moot or Fair. Each year in July, hundreds of warriors from other parts of Europe as well as local residents come to this place.
They are watching the spectacular fights with warriors saddled up on their horses. And all geared up in their Viking war suits and equipment. The reenactments of the battles and the horse shows are the fair's main attraction.
Sail with Denmark's Viking Ship Museum in Roskilde
The Viking Ship Museum located at Roskilde is one very unique attraction of Denmark. It is the Danish National Museum for ships, seafaring, and boatbuilding. Particularly those associated with the prehistoric and medieval periods.
The oldest part of the Roskilde viking museum which is the Viking Ship Hall, opened in 1969 to feature five Viking ships found at Skuldelev. These ships are believed to have been deliberately sunk to form a blockage. That was intended to protect Roskilde from enemy attack attempted from the sea.
These ships serving various purposes such as cargo or war facilities were excavated in 1962. They were soon joined by other discovered ships which gave way for the expansion of the Roskilde viking museum. A 36-meter long Viking warship is one of the most popular finds housed in this museum.
There are many activities offered to viking museum Denmark visitors to ensure that they get to enjoy the Viking Ship Museum Roskilde facilities. Rides in traditional Nordic boats are available. There are all passengers asked to do sailor work like rowing, setting the sail, and manning the rudder.
An experienced sailing instructor takes charge of leading each boat. All children must be accompanied by adults. Although those aged below 4 years are not allowed to go on board.
The Boat Builder Workshop held at the boatyard of the museum allows visitors to try their Viking tools skills. Also weaving willow, or cutting their own wooden designs. Special activities like "Meet the Craftsman" offer opportunities to see real blacksmiths and woodcarvers showing their extraordinary skills.
It is worth noting that all maritime archaeological finds in Denmark are collected in the viking museum Denmark archives.
Viking Ship Museum Opening Hours
Ladby Ship in Funen
Next stop are the Viking monuments. In Funen, you can check out the Ladby ship which served as a ship burial in the 19th and 10 centuries. This is the only ship of its kind found in Denmark specifically on Funen island's Kerteminde.
Another monument worth visiting is the Glavendrup Stone Ship setting  also on Funen. There you will get to see the runic stone dating back to the 10th century. The runic stone here features the longest text (210 characters) on such a stone found in Denmark.
Lindholm Hoje in North Jutland
For the largest Viking burial site in Denmark, you have to visit the Lindholm Mound in Aalborg. Here you will find more than 700 burial and cremation sites that date back from 400 to 1000 A.D. and are marked by stone settings of various shapes.
International Denmark Vikings Markets
The Viking Moot is said to be Denmark's oldest Viking Market.
One of the most popular Denmark events in Aarhus, the annual Viking festival takes place on the last weekend of July. What's notable about the festival aside from drawing in an average of 20,000 visitors yearly is that it also attracts historic groups from all over Europe.
Historic groups who come to Aarhus and participate in the re-creation of epic battles and stories from ages past.
The Viking Center
If you are into Denmark Vikings, you might want to check out the International Viking Market Denmark in the Vikinge Center in Ribe.
Ribe is a Danish town in southwest Jutland.  This is an event where you can have the ultimate Viking experience.  More than 500 Vikings from all over Europe flock to this event. 
You will be amazed by the authenticity of the market atmosphere.  It takes you back to what it would have been like in Ribe 1300 years ago.  You will feel like you traveled back in time.
What can you see at the Viking Center?
People can see how the Danish Vikings lived and worked. There will be a wide variety of stalls where a good trade can be done at the marketplace.  
To make things even more exciting, there are:
battle re-enactments
racing
and archery displays scheduled on those days
People can also see how the Denmark Vikings create their arts and crafts.  They can find out how to weave and how jewelry, glass beads, leather pouches, shoes are made.
Also, people can see how clothes, pottery, wooden objects, drinking horns, helmets and toys for the young Danish Vikings are made. They can even see blacksmiths make arrowheads and knives. It is a remarkable experience. 
Not only that, they can also gaze upon the simplest and finest kitchens. They can see where Denmark Vikings cooked their food over fired, baked flat bread. And cook porridge and soup in large, block pots. As they go around, they can also listen to the merry sounds of the musicians who will surely catch their attention. 
Viking horses
What's more, a Viking Village is nothing without its horses. So people can also meet Viking's horses and the Icelandic horse at the Viking's market.  They can even see a tough little race where all five differently paced horses take part in during the riding displays.
The Viking Age in Denmark's history is a glorious period that has greatly shaped the country's culture. Much has been written about it. And all around the country are preserved evidences of the sea-faring traditions of these people. Along with historic groups that continue to promote their legacies.
Visiting a world-class museum Moesgaard
Since the 1970s, Moesgaard has become a place where authentic Viking wares are being displayed courtesy of the Moesgaard Museum.
Some items such as clothing, silver jewels and homemade Danish food are also sold during the fair.
Viking festivals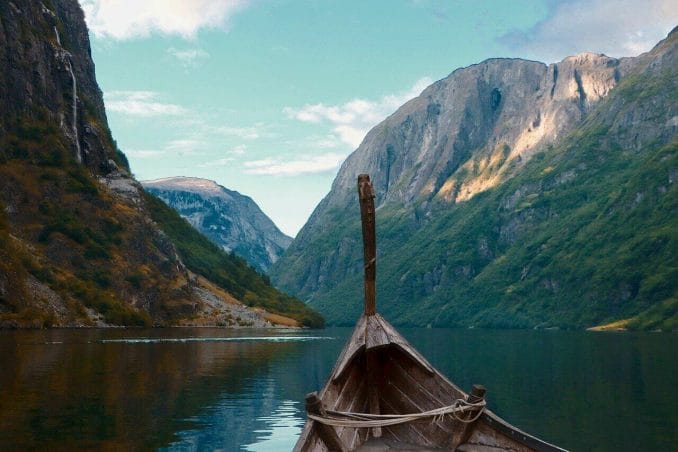 Definitely a colorful and entertaining part of Denmark's culture are the many local festivals that pay homage to the Viking way of living and their legendary exploits at sea.
Here are a few of the most popular ones.
Vikingespil
The town of Frederikssund comes especially alive with Viking spirit around the late part of June to the early weeks of July. During the festival, over 250 volunteers don Viking costumes and perform in a series of plays. Also, in musical performances about the Denmark Vikings.
The event is made more fun with the Viking Market Denmark where stalls bearing food, drinks and souvenirs can be found.
Trelleborg Viking Festival
The Viking fortress of Telleborg is another site for an annual Viking Festival that takes place during the summer. Aside from re-creating battles, there are also demonstrations and hands-on training on certain Viking practices. Such as warrior training, manufacture of pottery and glass beads as well as forging of weapons.
Roskilde Walk with Vikings & Kings
Roskilde is located a mere 20 miles from Copenhagen and it's a must visit for anyone interested in Danish history, (both Christian and pre-Christian).
This is the place where two distinct facets of Danish history collide. In Roskilde, you can walk with both Vikings and kings.
Getting there is a breeze. With a car it is a very simple drive, on well-marked and maintained highways. Without, the journey takes 30-minutes on the train from Copenhagen central. Getting from Copenhagen to Roskilde and back will not take more than an hour or cost more than $15.
It is an absolute travesty that more tourists in Denmark do not venture out of the city limits to see what ancient Denmark was like. That's exactly what Roskilde's two main attractions offer, authenticity. Both the Viking Ship Museum Roskilde and Roskilde Cathedral do not try to take visitors back in time but instead bring history into the present.
Walking with Denmark Vikings at Viking Ship Museum
At the Viking Ship Museum Roskilde, a guest will first be greeted with a spectacular view of the surrounding bay. It is this feature that drew some of the first Vikings to Roskilde.
The bay was deep enough for their ships and had a very narrow inlet that was easily defended. The Viking Ship Museum puts visitors literally out on that same bay. Inside it is filled with Viking artifacts, stories, and most importantly, their ships.
Discovered and raised in 1962, scholars believe the Danish Vikings purposefully scuttled these ships to block the inlet from an invading horde. Through tireless preservation efforts the boats have been reconditioned and given a new home.
The accompanying Roskilde viking museum Denmark was completed in 1969, and the ships were moved to their current resting places. What is so amazing about the Viking Ship Museum Roskilde is that it is not simply a dull place where memories are housed. It is a living organ constantly restoring and recovering artifacts, while simultaneously creating new experiences that connect the visitor to an era long since passed.
Outside the main building, there is a small dock where enthusiasts have moored their recreations. Here you can see the ships in action, still sailing in good order unlike their indoor predecessors. Contemporary Vikings still make yearly open-sea voyages on these vessels, but do not partake in the infamous extra curricular activities of their Viking ancestors.
Fun things to do
Perhaps somewhat ironically, the Viking Ship Museum offers a lot of hands on activities for kids in Denmark. Including rope making classes, a smith's workshop, and short Viking voyages. They have a recreation of a Viking camp sure to entertain and encourage a young imagination.
The Viking Ship Museum is not an old stuffy collection of rotted wood. It is an inspiration to dream big. Despite their obvious shortcomings (they were a people of precipitous violence), the Denmark Vikings navigated great expanses of open sea and discovered vast new lands, at the time, never before visited by Europeans.
While many of the Conquistadors are viewed as heroes of the Enlightenment, Danish Vikings are often seen as the worst of the Medieval. I think this reputation is unfair, but a visit to the Viking Ship Museum is enough for you to make up your own mind.
Walking with Kings at Roskilde Cathedral
At Roskilde Cathedral, admittedly you will not find the same hands-on spirit. However, there are spirits of a different kind. Roskilde Cathedral is the resting place of the Danish Royal family.
Built in the 12th Century, Roskilde Cathedral is the first Gothic Cathedral built from brick. The cathedral is located atop the highest hill in Roskilde. And provides the striking contrast between the sea-foam green rusted copper roof and the deep sienna of the fired red clay.
The front portal to the cathedral is a haunting abstract copper molding by Peter Brandes. Completed in 2010, the portal shows how Danes are not slaves to the past and are always looking to not only preserve but also improve.
Guided tours
Upon entrance, the truly remarkable scale greets the visitor. Buildings this big aren't supposed to be made of brick. As the tour continues, the guest is met with original artwork, and murals. Each chapel was created to house the deceased members of Europe's oldest continuous royal line.
They each have their own style depending on the personality of those interred. The sarcophagi give the guest an eerie look at the lifestyle of some of Denmark's most powerful people. Whether it's the larger than life Christian IV, or the extremely humble resting place of Christian X , Roskilde Cathedral can give you a unique glimpse of Danish history.  
Don't know the first thing about Danish royalty, this is the best place to start. A guided tour here will give you all the background needed for visits to all of Denmark's famous castles. Consider it the Danish version of Westminster Abbey, and enjoy the truly epic breadth of Denmark's monarchy.
So from Vikings to Kings, Roskilde has the entire history of Denmark completely covered. The noise and activity of the Viking Ship Museum Roskilde and the quiet respect of Roskilde Cathedral illustrates the transformation of Danish society.  
Slowly the wild nomadic Denmark Vikings gave way to the religious agrarianism of the Middle Ages. Today's Danes seek to strike a balance between the two extremes. Providing for the less fortunate while still keeping the spirit of radical freedom alive. Both the Viking Ship Museum and Roskilde Cathedral show that Danish history is ever evolving and far from complete.
FAQs
Where to Go for a Viking Tour?
One of the best places to visit are The Viking Center in Ribe and Viking Ship Museum in Roskilde.
Where are vikings from?
Originally, Vikings are from southern Scandinavia (Denmark, Norway and Sweden).
When was the viking period?
The viking period was from from the late 8th to the mid-11th century. According to some experts, more precisely from 800 to 1050 AD.
Did Denmark have vikings?
Yes, vikings were people that lived in what today is Denmark, Norway and Sweden. They were shipbuilders and sailors, so they were almost everywhere from Greenland and North America to Constantinople and all over Mediterranean Sea.
Related articles