The capital of Denmark is one of the most Instagrammable places in the world, especially because of its pretty, colorful, and vibrant culture.
A fusion of the European and Scandinavian flare are the main reasons Copenhagen remains to be a must-see city for wanderers. Not to mention the fact that it is one of the world's happiest countries.
Here are 10 of the prettiest places in Copenhagen to add color on your Instagram feed:
1. Nyhavn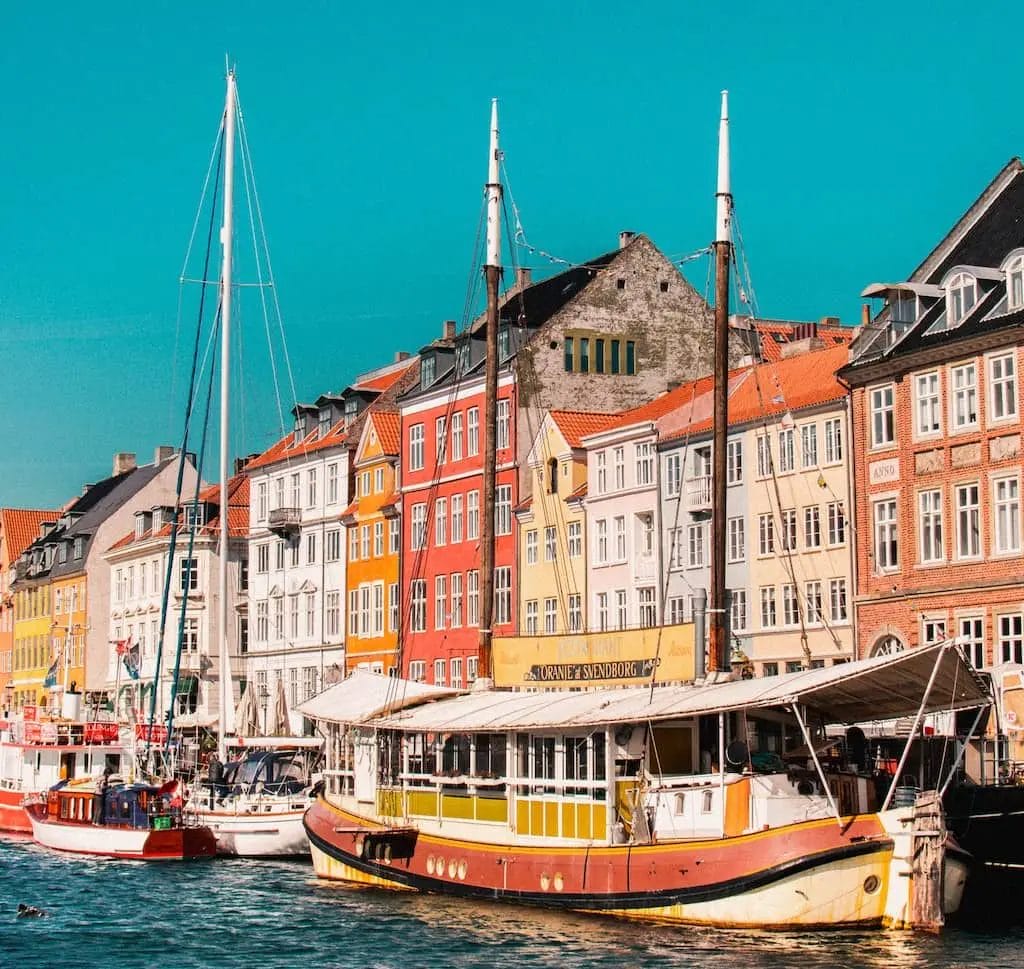 Multicolored houses lined up along a dainty river — that's what Nyhavn is famous for. Here you'll get great Copenhagen buildings pictures.
Go all wacky and jolly while posing in front of this postcard-worthy place, and wait until your Instagram notification blows up from all the likes and the comments that you'll get from your followers.
This area is also perfect for those who want to chill in the afternoon at a cozy cafe while listening to some fancy jazz music.
If we may suggest, bring a happy color suitcase with you and include that in the photo to complete the whole picture.
But if you're not the type to be all colorful, stick with your neutral-colored suitcase to still be your authentic self while exuding that vibe as if you're the next top model!Look at the best luggage brands for your very own hip and stylish bag.
2. Magstræde
This beautiful alley in Old Town Copenhagen is one of the oldest streets in the city. Like Nyhavn, it's also filled with colorful houses that line up the streets. That is why it is listed in our Copenhagen Instagram spots!
After uploading your Nyhavn photo, upload your Magstræde photo next, but don't worry about not being in the picture itself. A scenic shot of this alley is enough to give justice to the place even without you in it.
Trust me; you would still gain hundreds to thousands of likes once you make public this photo of the majestic Magstræde.
But if you're really feeling creative, you can do a couple of unique and out of this world shots while having fun with your travel buddies.
After your photoshoot, you can take a break and enjoy the beauty of the place by securing a table at Gorm's Pizza. This pizzeria with cute, colorful chairs can even be another place for your picture taking if you're not tired from all of the previous ones.
3. Christianshavn
For the hip and the artsy, Christianshavn has a lot of art galleries and music houses. You can visit each one on a day's tour, all while also experiencing their diverse street food offerings.
You'll find a lot of interesting and Instagram-worthy stuff here, such as Pusher Street, with its trinkets that will tickle your senses. There's even a tree filled with shoes and a house painted with murals on the outside.
You can explore this town by bike, or you can walk around to visit places and try new restaurants. You'll probably find some great Copenhagen Instagram spots if you walk through the coffee shops doors…
4. Freetown Christiana
Freetown Christiana is one of the most famous spots in Copenhagen.
Why? Because cannabis is being sold here freely.
But just because they sell pot here doesn't make the town rough and scary. It's a pretty alive town where people can be happy and gay without judgment.
This is where the creatives feel more themselves because of the workshops and artists that are thriving in the area.
If you're into yoga, you can also do some of your routines here with professional yoga practitioners.
5. Frederik's Church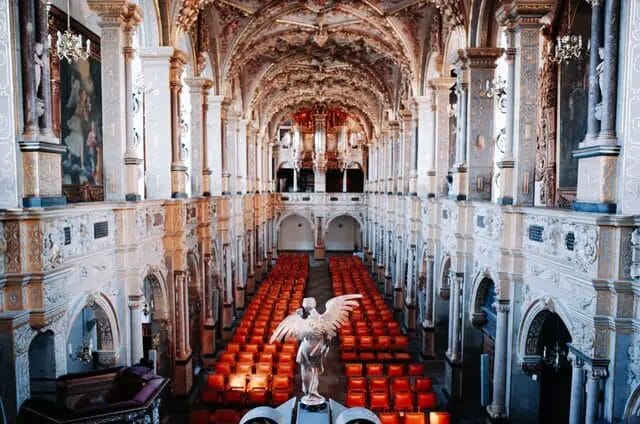 Also known as The Marble Church, this Evangelical Lutheran church has amazing views of the city once you climb the top.
It remains to be one of the most beautiful churches in the country with its stunning dome to make your jaws drop even from afar. To have your photo taken here will instantly make your Instagram feed look regal and majestic.
Just remind your photographer not to crop the dome as it is the highlight of the photo! Here we go to get your Instagrammable Copenhagen picture!
6. Tivoli Gardens
For your dose of adventure and playful photos, the Tivoli Gardens Copenhagen is for you. It's one of the funniest Copenhagen Instagram Spots for a photo shooting.
It's a theme park located a few minutes away from the City Hall and the Copenhagen Central Station. Tivoli Gardens is an ancient attraction that continues to make people happy from 1843 up until this day (book your skip the line ticket online).
Don't skip trying the Vertigo, Tivoli Gardens' ride for the thrill-seekers! The point of visiting this theme park is to get your adventurous side jumping with joy, so to skip all the rides will bring no justice to the whole place!
Imagine how your photos would look and feel like when you pose in front of one of its nostalgic rides.
7. Copenhagen Bispebjerg Cemetery
Since when did cemeteries become Instagrammable in Copenhagen?
Although it seems less likely to happen, Bispebjerg Cemetery is really one of those hauntingly beautiful places that will make you want to photograph each corner.
Especially during spring, visitors from all over Denmark and from different countries visit this place as it becomes cherry blossom heaven.
You can stay right in the middle of one of the streets and have your photo taken under the beautiful pink blooms.
8. Rosenborg Castle
If renaissance is the name of your Instagram game, a trip to the Rosenborg Castle will validate your feelings!
It's an ancient establishment; even the smell will make you feel like you have transported back in time. Good thing the authorities tasked to preserve this castle has done a great job making sure that people from different generations can still see this beauty.
There will be no royal guards to arrest you if you take selfies inside, don't worry!
9. Church of our Saviour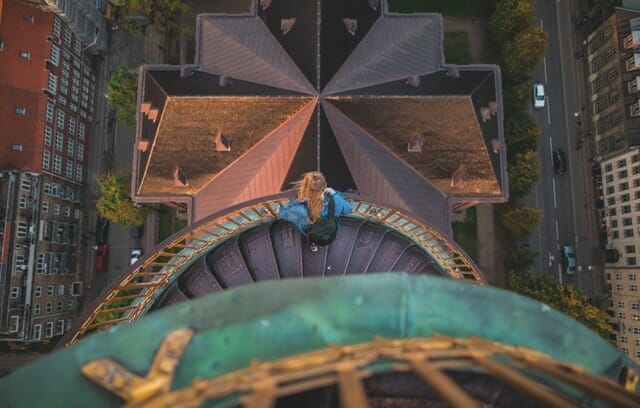 The beautiful tower of the Church of Our Saviour is one of the many highlights of Copenhagen.
Its Danish architecture stands out from the surrounding buildings. So if you ever visit this city, make sure to show off your skyline photography and brag about it online. You'll be happy to publish this Copenhagen Instagram spot in your friend's feed.
It's a joy to look at photographs, and you might inspire your followers to up their game and take better photos during their travels!
10. The Black Market in Nørrebro
The Black Market in Nørrebro is one of the hippest places in Denmark and in Copenhagen alone.
It becomes a bazaar during the weekends where people can get the best of Danish arts and crafts. It's practically a cool urban space where locals and tourists can be themselves. Even the streets are lined up with cool curvy lines instead of traditional traffic lines.
This is definitely one of those spots where you can stay out of the extraordinary among your Instagram followers!
Ready to Capture the Copenhagen Instagram Spots?
If you're looking for your next vacation spot, look no further. Copenhagen stands at the top of our Instagrammable places for travelers, no matter the gender! The next time you go trotting around Europe, be sure to visit Denmark and its pretty colorful places worthy of every shot in your digital or film camera!