For any person who's a big fan of doing outdoor activities, Denmark is a place worth visiting. There are many outdoor activities that you can do in Denmark. You can watch wildlife, ride your bike, go camping, and so much more. Another simple outdoor activity that you can do while you're there is walking or hiking in Denmark in one of their many hiking trails.
There are hiking trails fit for beginners and trails that offer more of a challenge. It's a matter of which ones you prefer. Since Denmark offers plenty of gorgeous landscapes to discover, going on a hike is a must if you want to see the many nooks and crannies that the country has. From white sandy beaches to verdant forests, you can't go wrong with visiting some of its Denmark hiking trails.
On that note, here are the best hikes in Denmark that you ought to visit by yourself or with friends and family.
Hiking in Denmark Top 6 Trails
1. Camønoen
The trail that locals refer to as Denmark's most beginner-friendly hiking trail is Camønoen. Camønoen is a 108 mile or 175 km trail that spans the areas of Møn, Nyord, and Bogø. One of the most common and the best starting point for this particular route would be the Møns Museum. If you want, you can also go on a guided hike with other people for this Denmark hiking trail.
An undeniable highlight of Camønoen is its iconic white limestone cliffs that lead down to the sea from a height of around a hundred meters.
You can stop at any point along the Camønoen trail, depending on your fitness and other factors. However, if you decide to complete the trail, you can enjoy a variety of environments for you. From the forests to the beaches and the iconic cliffs, there's much to see here.
Do note that you can print out a personal map for hiking in Denmark when you start at the Møns Museum.
2. Øhavsstien
For hikers looking for a more extensive hiking trail, you might want to check out Øhavsstien. This hiking trail is one of Denmark's longest trail, spanning at about 220 km long. Another name for Øhavsstien that you can use is The Archipelago Trail. You can find this trail at around South Funen, and the path comprises of seven specific sections.
There are many islets and parts of the archipelago where you can observe bird habitats. Each section has its must-see sights that you would want to check out. For the best information on each particular section, you should grab yourself a copy of Det Sydfynske Øhav. It contains descriptions and tips for the entire trail and each part. If you plan on hiking in Øhavsstien, consider going during the latter days of June. At the end of June, Fjällräven Classic Denmark is a significant trekking event that passes through some of the areas of Øhavsstien, so it would be much more interesting to hike during then.
3. Mols Bjerge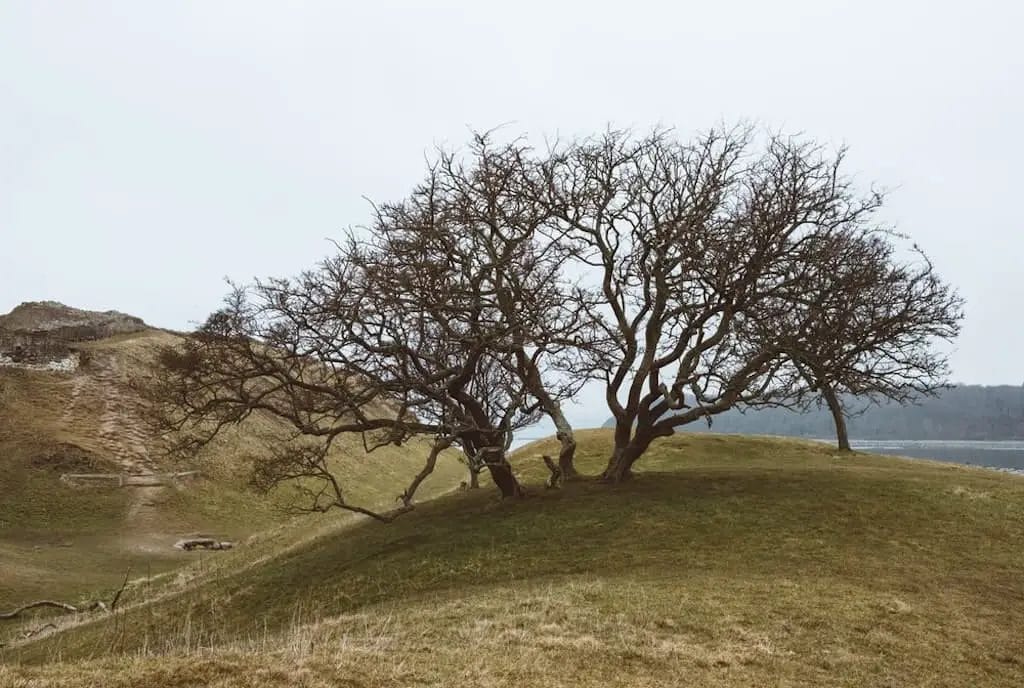 No matter which country you go to, a good bet to take for when you're looking for a place to hike at is to look at a country's national park. The same applies to Denmark and its national park Mols Bjerge. Mols Bjerge National Park spans at about 180 km. This Denmark hiking trail has a hilly landscape, so make sure that you put on some sensible footwear for the trip.
There are many other attractions that you can find in Mols Bjerge National Park. Aside from the natural old oak trees, beaches, lakes, and grasslands, there are also other sites to see. Castle ruins, for one, are something you can look forward to in your trek.
The starting point of this particular hike is at a parking lot near the outskirts of the Knebel village. You can reach the parking lot either through a car or by using public transportation.
4. Bornholm
Another trail worth noting in Denmark is the sparkling coastline hike that Bornholm can give you. Bornholm is a fascinating island that is about 1.7 billion years old. You can hike the shores that surround Bornholm for a coastal trail that spans nearly 120 km or 75 miles. In total, this multi day hiking in Denmark will take you between four days to a whole week.
Since the hike is going to take you days to complete, you will need a place to stay for the night. Luckily, you might be able to come by small fishing villages along the hiking trail. You may be able to find a place to sleep in one of these quaint villages. You might as well have a couple of the local meals while you're at it.
5. Hærvejen
Hærvejen is also known as The Ancient Road, Ox Road, Army Road, or even as the Danish Pilgrim Route. This Denmark hiking trail is a whopping 500 km trail and is around 4,000 years old. When hiking this danish trail, you can choose between the Eastern and the Western Route. You can find out more about these routes through this site.
Depending on your route, you can pass by the North Sea or the preserved areas of the Jutlandic Ridge. You can pass by some regions of the trail that will make you feel the historical use of this path for traders, armies, and pilgrims.
6. Thy National Park
Thy National Park is Denmark's oldest national park. People also describe it as Denmark's last wilderness. Since Thy National Park is quite expansive, you'd want to bring your trekking poles with you if you plan on exploring all of its trails. Although if you're going to take a shortcut, you can access the National Park's most notable attractions by car.
There are many landscapes to experience in this national park. From dunes to limestone, there are many areas to hike in when you're in Thy National Park. Since there's much to hike in the park, anyone from beginners to experts can enjoy themselves here.
Conclusion on Hiking in Denmark
Denmark is a beautiful country with a unique culture and a multitude of hiking trails worth encountering for yourself. From coastal hiking trails to trails in national parks, any hiker can find something to do when they're in Denmark. If you're planning any future hikes soon, consider going to Denmark to get that fix.
Related Hiking in Denmark Articles