Do you need some advices for your holidays to Denmark ? You read the good article !
Denmark is an ideal country to visit for a great summer holiday: it has long hours of daylight and relatively cool weather. Its low elevation and long coastline also mean that there are lots of beaches to choose from.
The 9 Best Activities for Spending Holidays to Denmark
It's also a great time of year to indulge in some hygge [hue-ga]. Hygge doesn't have a direct translation in English, but it has been related to comfort, happiness and wellbeing. Hygge is slowly becoming known abroad, but it's generally mentioned in relation to beating the winter blues, with the use of candles, blankets, and hot chocolate. In Denmark, it's something to enjoy year-round, so they offer great hygge activities and food for the summer, too.
Just some of the hygge activities you can look forward to are bicycle rides, outdoor festivals and meals with family or friends, such as picnics and barbecues. Even if you're on your own, you can still experience a hygge meal. There are many hyggelig cafes and restaurants in Copenhagen and beyond, and there's also an organization that helps you to arrange a meal with a Danish family, called Meet the Danes. 
Natural spaces are often at their best in the warmer months, and spending time amongst nature is very hyggelig. Even in the Danish capital of Copenhagen there are dozens of green areas to enjoy.
Denmark is a very bicycle-friendly country, and Copenhagen has numerous bike lanes and bike paths. One that runs through several parts of the city is often called the Green Path. This 10-kilometre route runs along an old railway track, and is pedestrian friendly, too. There are various public attractions along the way, but it also allows you to see the more private side of Copenhagen as it winds between the houses.
Cycling is a great way to reach tourist spots such as Tivoli Gardens – a pleasure garden and amusement park that runs entirely on renewable energy for your holidays to Denmark. Located near the main train station, you can go from thrilling rides to historical buildings, or viewing colourful flowers to eating in spectacular restaurants and cafes all within metres of each other.
Except for Halloween and Christmas, it's only open from April to September, and summer sees the Gardens host various concerts, performances and other events. 
Copenhagen boasts other public parks and gardens such as the one at the Royal Library (which was formerly a shipyard) or J.C. Jacobsen's Garden. The latter, also known as Academy Garden, was once the private garden of the founder of Carlsberg Breweries and contains a hanging garden and cafe. It's still a quiet tourist spot, having only been opened to the public in 2008. It's easily accessed via Carlsberg station.
Not far from Tivoli Gardens is Copenhagen Zoo, which puts on a variety of summer activities, including animal feeding. The zoo is one of the oldest in Europe, although they have updated their habitats – the new Elephant Garden is also an example of stunning modern architecture. If you have ethical concerns about zoos, though, you can skip it and just visit the neighbouring Frederiksberg Gardens. Overlooking the luscious lawn (a popular picnic spot) is Frederiksberg Palace, and boat tours are available on the water.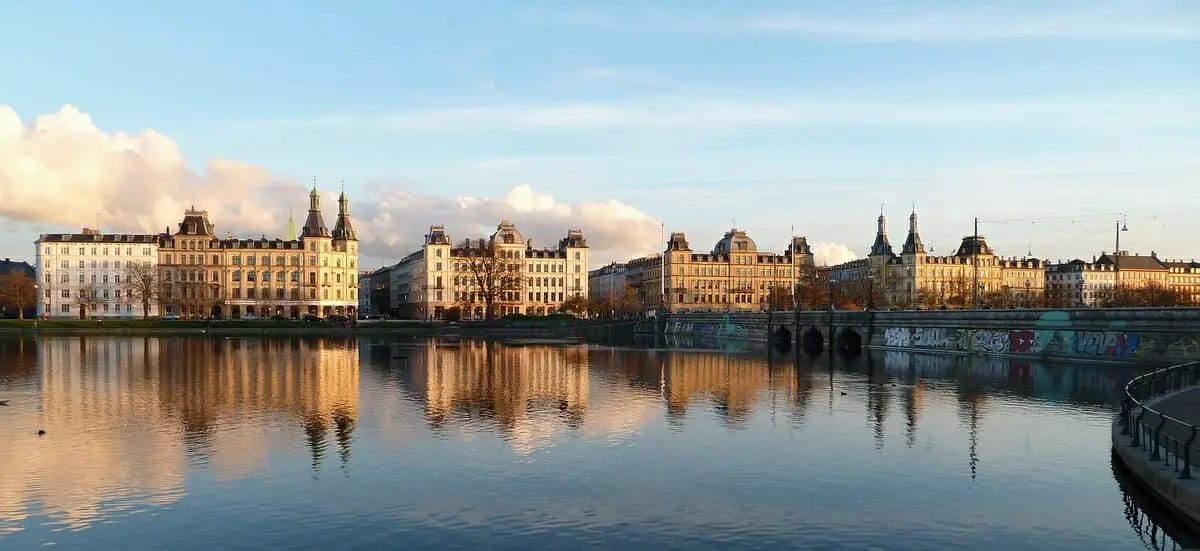 To the west of Copenhagen city centre (and north of Tivoli) are The Lakes, a group of three rectangular lakes that are as popular with locals as they are visitors. They're a good place to spot wildlife, as two of the lakes are home to an artificial island that provides sanctuary for birds. Their summer appeal is the rowing boat rentals near Dronning Louises Bridge.
The Lakes are also useful for orienting yourself in the city. South of the Dronning Louises Bridge is Nansensgade, a street featuring many second-hand shops and lovely cafes. East of the most southern lake is Pumpehuset, which hosts free outdoor concerts in summer; and to the east of the northernmost lake is Kastellet, or The Citadel. These are military fortifications in the shape of a star, where you can attend free events and concerts. Nearby is the famous bronze sculpture of The Little Mermaid.
North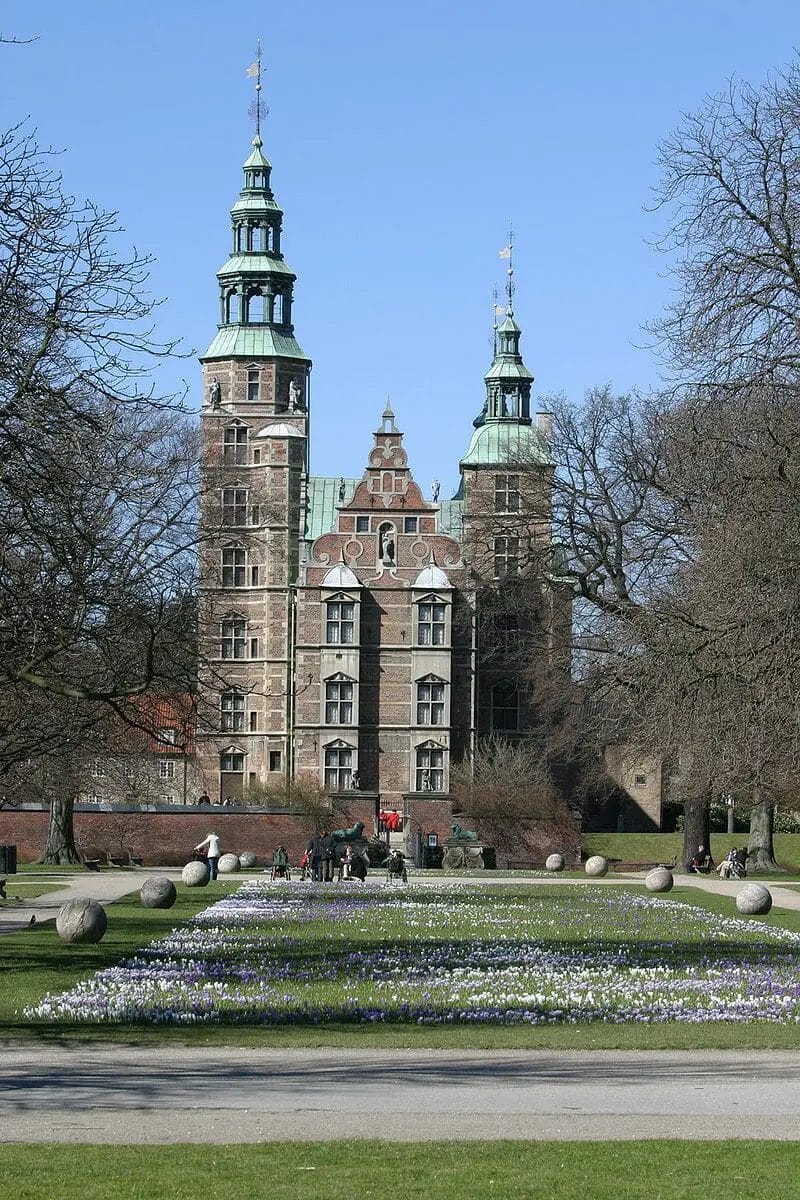 east of Nansensgade is Copenhagen's Botanical Garden, which has a shop and café van and entry is free. Bordering the Botanical Garden is Rosenburg Castle and royal museum, standing grandly before The King's Garden.
Among the grand flowerbeds, you can find a statue of Hans Christian Andersen, and an adventure playground for children. Children can also be entertained by a puppet show in midsummer.
Keep going south-east and you'll reach Nyhavn, where you'll find the spectacular, iconic houses with coloured facades. Nyhavn is a former port where you can now enjoy a delicious meal by the canal. It also has the claim to fame of being where Hans Christian Andersen lived – in houses 20, 67, and 18! For the oldest house, you'll want to see No. 9.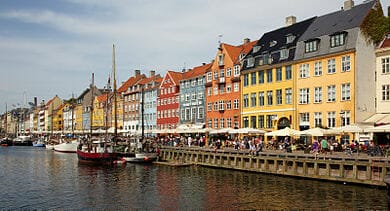 You could easily spend a whole holiday in Copenhagen, but Denmark has much more to offer. West of the capital is Roskilde, home to the Viking Ship Museum and the Roskilde Festival. It attracts just as many headliners as any other summer music festival, but with less commercialism and more community spirit. Come at the end of June/start of July to catch this charitable and ecological event.
Even further west on the Jutland peninsula is Odense, the third most populous city. From Copenhagen, it's around an hour and a half by train or 2 hours by car. Here you can enjoy The Funen Village open-air museum, buy delicious local produce in farm shops and visit Hans Christian Andersen's house (another one!)
For those hunting for the best beach, you'll have to go to North Jutland, where Lokken Beach is situated. Nearby Aalborg makes a great place to stay – it has its own airport and is about 40 minutes' drive away. The same distance in the opposite direction will bring you to the animal watchers' paradise of Lille Vildmose, a raised bog that provides the habitat for aurochs, deer and golden eagles. 
If a day-trip from Copenhagen is more suited to you, then the island of Bornholm is perfect. You can visit Hammerhus fortress ruins and the lighthouse, followed by delicious ice-cream. In the largest town, Rønne, you can visit its distinctive round churches, markets, traditional mill, herring smokehouse, and white sandy beaches. 
Holidays to Denmark gives you a whole host of opportunities to enjoy the outdoors, and truly indulge in the hygge lifestyle. Put your wellbeing first and give yourself a Danish holiday!
Going For A Vacation In Denmark
Holidays to Denmark has been always been a very intriguing destination for travellers and with very good reason.
You can take the Copenhagen city card for access to a lot of attractions and transports and save money for your vocation !
It has so many different things to see and do. Copenhagen is one of the places you definitely will want to spend some time in. With beautiful attractions such as the Ribe Viking Centre and Egeskov Castle Copenhagen will keep you busy for a while, but plan to make other stops as well in this country. Denmark is the birthplace of the Lego building blocks that we have played with as kids.
If you love Lego products than a stop over in Billund at the Legoland theme park. You will find something for the whole family to do in this state of the art theme park.
Rock concerts and all kinds of rides is something that you should also expect when visiting this country. Travelling through this country is like enjoying a little bit of paradise daily. If there is one stop that you want to make sure you do not miss in this country is the various castles that dot the landscape through this country. Halmet' Castle located near Elsinoire is the most visited one by tourists. Wildlife Park, Denmark Museums and many harbours also places you will want to check out. Denmark has a great array of world-class restaurants, cafes, and pizza shops that you will want to visit on your vacation time.
The North New Zealand offers some very stunning forests that you will want to visit. In a time where forests are vanishing this is a great place to check out while you're on vacation.
Cheap Holiday Plans While In Denmark
Whenever you think about travelling to Denmark, you cannot help but think of how expensive it can be. There is actual truth to this fear. Not only is Denmark known to be a shopping destinations for those who are into the expensive brands, but because it has tourist spots that every want would want to get a glimpse of.
But if you truly want to experience Denmark and the best that it has to offer, all you need is to carefully plan out of your trip. When everything is at its place, you know there is a lot about this country that you will truly enjoy.
Traveling to Denmark doesn't have to mean that it has to be expensive. There are actually cheap destination sites in the country that will fit the budget-conscious you. With a bike, you can go around the city without worrying about paying too much for a train or bus ride. The best thing about it is that most of the tourist spots in Denmark are free to see.
From the free events in Denmark every now and then to the beaches and National parks that are to love, you will enjoy Denmark any time of the year without worrying about prices an rates going up. If you are worried about your accommodation in Denmark, you'd be glad to know that there are several camping sites that are actually for free.
Bring yourself closer to nature and camp out for the night. These areas are properly maintained so you don't have to worry about dealing with a dirty common toilet, because you simply won't. There are many cheap ways to go around Denmark and eat their traditional food without breaking the bank. All you need is to be excited for everything that Denmark has to offer.
Holidays to Denmark : Cruising Still a Popular Vacation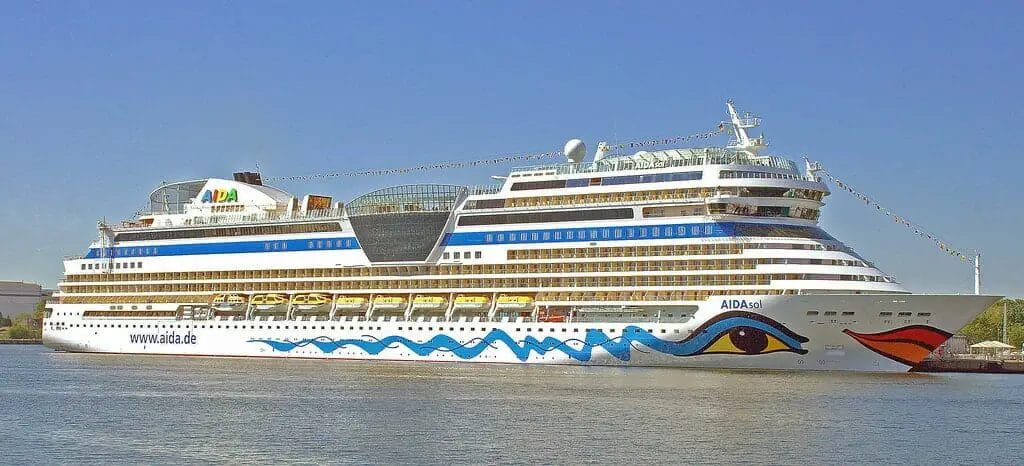 Summer is a fantastic time to go on a vacation. And what better way to go on a holiday than through a cruise ship tour. Cruising in Denmark is a more relaxing option what with the soothing sight of the calm waters of the oceans plus you get to visit a number of places.
Your holidays in Denmark would not be complete without a cruise ship tour. You can start from the capital of Copenhagen where most cruise ships dock for a stopover or for a start or end of a cruise tour. In fact, the increasing number of passengers who begin and end their cruises in Copenhagen have contributed greatly to boosting the country's economy.
The Copenhagen-Malmo Port, the capital's harbor authority, says approximately half of the 620,000 cruise ship passengers visiting the city this year are referred to as turnaround passengers. In other words, it's either they start, end or start and end their cruise tours in Copenhagen.
Turnaround passengers are known to benefit local businesses better than the so-called single day tourists. These people taking their Denmark vacation normally spend more time in the capital and spend their money three times as much as the others which translates to better revenues for the city's hotels, shops and restaurants.
As it is, 2009 is projected to be a record year for cruise passengers in Copenhagen. For this year, cruise ships are expected to call on Copenhagen 334 times or 10 percent more than the 2008 figures. But, industry analysts see 2010 to be more progressive. In other words, more cruise ships are projected to call on the city next year amid the announcement of Holland America to stop its Copenhagen route in 2010.
Denmark land is known for being a major player in the international shipping industry. Among the cruise ships that call on Copenhagen include Aida, Azamara, Carnival, Celebrity, Clipper, Costa, Crystal, Delphin Seereisen, Fred Olsen, MSC, Norwegian, Oceania, Orient, Regent Seven Seas, Royal Carribean International and Silver Sea among others.
Spend a Sailing Holiday to Denmark
Holidays to Denmark is coming. Why not go for a sailing holiday to Denmark this year? Denmark is a haven for cruise ships, yachts and regattas. With these, you have the unique opportunity to visit Denmark's different small islands to relax and unwind with your loved ones.
Various sites are available for sailing in Denmark. The Danish waters include belts, straits, rivers, watercourses, deep fjords, lakes and streams. In these places you will find coasts and long stretch of beaches.  You don't have to have your own boat as there are vessels for rent at affordable rates, for example at a boat charter in Copenhagen.
Did you know that Denmark boasts of 275 yacht harbours and 7,300 kilometers of coastline? And if you're planning to go yachting in any part of the country, all you have to do is to be considerate with other guests on a yacht and to follow signs. This is because of the large number of yachts mooring at the country's harbours.
Visitors who prefer calm waters  and a peaceful sailing experience should set sail on fjords, sounds and straits. Top favorites are the South Funen archipelago, Smalandshavet and Limfjorden.
The more adventurous people can sail in the open seas. Strongly recommended areas are the Kattegat islands of Anholt and Laeso, the Baltic or Skagen situated at the tip of Denmark.
May you always have wind in your sails! But what if your sail is broken? Fortunately, along the coast and in many harbors there are sail maker shops to come to the rescue.
Whether you want to go on board a modern or the old-style vintage boat, there is always an opportunity for a relaxing sailing holiday in Denmark. In fact, the marinas are some of the ideal places to meet the Danes who have a natural connection with waters.
Hope you will enjoy your Holidays to Denmark !