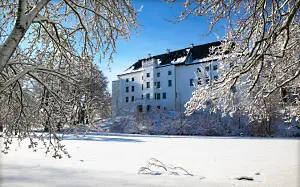 The Dragsholm Castle or Dragsholm Slot in Danish is one of Denmark's famous castles. Today it is a renowned hotel, but the Dragsholm Castle is most famous for its ghosts – it is, by popular recount, one of the most haunted castles in all of Europe.
While Dragsholm Castle allegedly has over a hundred ghosts, there are three spirits who seem to gather the most attention:
The Grey Lady: A worker in the Dragsholm Castle at one time, she haunts the rooms at night. During her life, as the story goes, she suffered from a major toothache that was cured by a medical in the castle. As a thank you, she returns to check on visitors.
The White Lady: Daughter of a former owner, this child-like spirit haunts the hallways at night. When alive, she fell in love with a commoner who happened to work in the castle. While the lovers were able to keep their affair secret for a while, the girl's father eventually discovered them. In a rage, he ordered his daughter to be imprisoned in a room in the castle. During the early twentieth century, workers were pulling down walls for a renovation and came across a small skeleton clothed in a white gown.
The Earl of Bothwell: James Hepburn died after years of imprisonment in the cellars of the Dragsholm Castle. His ghost is said to haunt the cobbled courtyard with the sounds of carriage and horses.
Address and phone number of Dragsholm Castle.