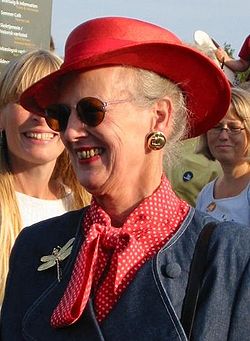 The Danish monarchy is one of the oldest in the world and one of the most firmly established and popular institutions in Denmark.
Denmark is a constitutional monarchy, which means that the monarch cannot independently perform political acts. The monarch's main tasks are to represent Denmark abroad and to be a figurehead at home.
History  of the Danish Monarchy

The Danish Monarchy can be traced back to Gorm the Old (buried 958 in Jelling in Jutland) and his son Harald I Bluetooth, who moved the royal residence to Zealand. These are the first two kings who with any certainty can be dated and located in connection with the unification of Denmark.
The two great lines of the Danish Royal House are the House of Oldenborg and the House of Glücksborg. The first representative of the House of Oldenborg became King in 1448, and the last King of the House of Oldenborg was King Frederik VII, as he had no heir to the throne. In 1863, the first representative of the House of Glücksborg became King, and the present Royal Family are direct descendants of this Royal House.
Danish Royal Family
The Danish Royal Family includes The Queen of Denmark and her family. All members hold the title of Prince or Princess of Denmark with the style of His or Her Royal Highness (Hans or Hendes Kongelige Højhed), or His or Her Highness (Hans or Hendes Højhed).
Today, Margrethe II (born 16 April 1940) is the queen regnant of Denmark. With her husband, Prince Consort Henrik, she has two sons, Crown Prince Frederik and Prince Joachim. Crown Prince Frederik of Denmark is the heir apparent to the throne of Denmark. When Crown Prince Frederik becomes king, he will be King Frederik X of Denmark.