Looking for the best 5 star hotels in Copenhagen? Perfect! You're at the right place.
Denmark has a reputation for being both socialist and simplistic. This is certainly a modern development, as Denmark also boasts Europe's oldest (uninterrupted) royal lineage, plus all the charm of the continent's other capitals.
So fear not luxury travelers, Copenhagen has world-class luxury hotels worthy of royalty.
What to Expect from Five Star Hotels in Copenhagen Denmark?
Copenhagen's 5 star hotels mix aspects of both old-world elegance and modern design into a beautifully unique experience.
For those visitors with a little cash to splash, here are the best 5-Star hotels Copenhagen has to offer.
Hotel Nimb Copenhagen
How would you like to stay in Denmark's most iconic attraction?
At Hotel Nimb, you can be part of the breathtaking Tivoli experience. Its Anglo-Indian exterior belies a truly post-industrial décor.
Again, Nimb mixes the expected with the eye-opening. Staying at Tivoli means guests are right in the center of the action. Just two minutes walk from Copenhagen Central Station, its impossible to miss, if not a landmark in itself.
To top it off, most rooms have a direct view of one of the world's most immaculate gardens. Nimb is where kitsch and comfort collide.
---
Copenhagen Marriott Hotel
Located a bit more outside the city center, the Copenhagen Marriott Hotel features spectacular waterfront views and signature Danish style.
Whereas, D'Angleterre, and Nimb encapsulate Copenhagen's glorious past, Copenhagen Marriott brings guests into the 21st century. Situated on one of Copenhagen's famous canals, the higher floors offer great views of the city itself.
In the summer, strolling along the canals is a perfect way to spend a day. Offering all the services of a 5-star hotel, Copenhagen Marriott is a perfect place to relax along the water before that big meeting.
---
Radisson Blu Scandinavia Hotel Copenhagen
Radisson Blu is ubiquitous in city centers across Europe.
From Berlin to Stockholm, Radisson claims the best locations for its luxury line. The Royal Hotel Copenhagen is no different.
Just 3 minutes walk from Copenhagen Central, the Royal Hotel Copenhagen is perfect for a quick layover, or as a base for a long stay. Close to Tivoli and the National Museum, guests at the Radisson Blu will never run out of things to see and do.
Inside you will find a splendid representation of Scandinavian style. The wood paneling and monochrome flared furniture are typically local. The Radisson Blu Royal Hotel Copenhagen is the best of Danish design.
---
Skt. Petri Hotel Copenhagen
Perhaps the best-located hotel on this list, Skt. Petri is within walking distance of Norreport, Copenhagen's metro center.
Furthermore, the city's famous towers are right outside your window. The iconic Rundetaarn (round tower) is only steps away. If you can make it to the top, you may see Skt. Petri is one of the best-designed buildings in view.
One the few modern buildings located in the heart of the old city, Skt. Petri offers modern accouterments in ancient surroundings.
With Copenhagen's main square, Trinity Church, and Copenhagen Cathedral all nearby, when you leave Skt. Petri you will inevitably stumble into a legendary location.
Sometimes modern design and classic architecture do mix, and mix well.
---
NH Collection Copenhagen
Whilst the Nimb or the Hotel D'Angleterre get a reputation for being amongst the best 5 star hotels in Copenhagen city centre, don't discount this gem. The NH Collection by NH hotels offers luxury vives and a modern Scandinavian style design.
This Spanish owned hotel chain certainly delivers for those who want familiarity – there are over 400 in the group. It's also not a surprise to find a bit of a Spanish twist either – there is a delicious Tapas bar on site.
Tablafina offers tapas with a Danish twist and a perfect wine pairing menu.
Rooms are sleek and modern design, which sit perfectly in the 1950s modernist building that was designed by Palle Suenson.
Located right by the harbour with excellent views, you'll be within a stone's throw from attractions such as The Royal Library. There are some throwbacks to its history as the former headquarters of Danish shipbuilding firm B&W.
---
71 Nyhavn Hotel Copenhagen
Situated at the corner between Nyhavn and the harbour, this is voted amongst the best 5 star luxury Copenhagen hotels in terms of charm.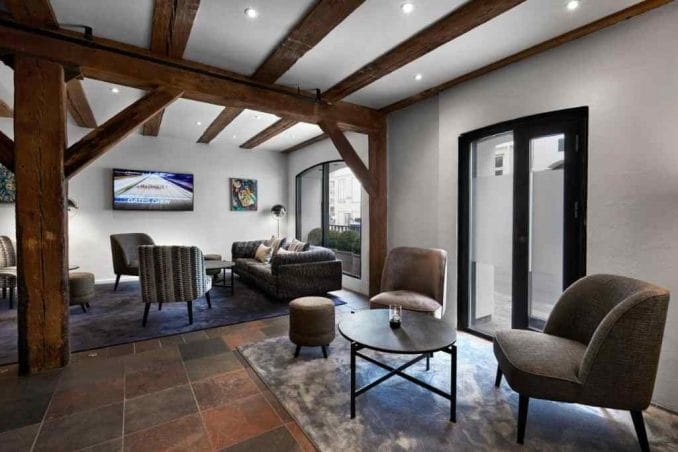 The Nyhavn Hotel is created from 19th century buildings, so it is oozing character and charm. Rooms therefore come with ceiling beams and wooden floors and a boutique hotel feel.
In terms of food you will be absolutely wowed by the Michelin star Kiin Kiin restaurant – especially if you are an Asian food lover. From the first time you step inside the charming lobby – complex also with its own beams – you'll be wowed.
The 71 Nyhavn Hotel is definitely one of the top 5 star hotels in Copenhagen Denmark.
---
Nobis Hotel Copenhagen
The Nobis Hotel is another great choice for those who seek style and charm. Housed in a former music school the location cannot be beaten – it is right beside the Tivoli gardens.
The early 20th-century building has been lovingly updated – in part with the help of Swedish architect Gert Wingårdh. Expect contemporary five star luxury right in the middle of the action.
The NOI restaurant on site is not only the location for delicious breakfasts, but also for its modern Danish cuisine with an international twist.
Check out a sample of the delicious menu to get you in the mood!
---
Hotel Sanders Copenhagen
Expect nothing more than the best in terms of cosy elegance and style at the gorgeous Hotel Sanders in Copenhagen. It is fast becoming a contender as one of the best small luxury hotels in Copenhagen.
The decor gets our vote here – especially on a dreary wet Copenhagen winter day. Homely yet extremely stylish, the furnishings scream high quality. There is a charming inner courtyard and a great bar too.
Food is served in the Sanders Kitchen and is offered with a Mediterranean twist – perfect for one of the top luxury hotels in Copenhagen that is becoming an international visitor favourite.
---
Hotel D'Angleterre Copenhagen
At over 250 years old, you may be forgiven for thinking that perhaps Hotel D'Angleterre is running on its reputation and francophone name.
Not a chance. D'Angleterre mixes sleek Scandinavian simplicity with old-school glamour. Don't be fooled by the turn of the century façade.
Inside you'll find contemporary art seamlessly intertwined with classic gilded molding. You also can't beat the location, just steps away from Kongens Nytorv, one of the cities important transportation hubs.
In the immediate area, you'll find Nyhavn and Copenhagen's central area, Indre By, which is perfect for both shopping and strolling.
If you desire heading to the Famous Tivoli Gardens, Amalienborg Palace, or the Operaen (New Opera House) this is one of the only 5 star hotels in Copenhagen that offer bikes to guests.
Biking is a truly Danish way to travel, even for royalty.
If you don't fancy going out at all, there is:
a luxurious spa
indoor pool
and fabulous restaurant/bar on site.
Let the professional staff personalize your stay and make your vacation truly relaxing.
---
FAQs about Five Star Hotels in Copenhagen Denmark
What's the closest 5-star hotel from Copenhagen airport?
It's a toss up between the NH Copenhagen and the Copenhagen Marriott – both of these great 5 star hotels are a 15 minute drive from the airport.
How to get from Copenhagen airport to Hotel Nimb?
Take the train from terminal 3 straight to the Central Train station – the Hotel Nimb is literally right there!
What are the taxes rates and fees for five star hotels in Copenhagen, Denmark?
Lucky for you – there is no tourist tax in Copenhagen! So, the price you see should be the price you pay!
How much for a weekend in a 5-star hotel in Copenhagen?
Expect rooms in the 5 star chains – the NH for example – to be around €250 per night. The Hotel D'Angleterre can be nearly €1000 depending on the season.
Conclusion
Got your eye on one of these 5 star hotels in Copenhagen?
Then book it right away – and please let us know your thoughts on your experience!
You Might Also Like