The former home of the meat business, the area around Kødbyen has been gentrified and is now a cool and hip place to visit. Now known as the meatpacking district  Copenhagen,  Kødbyen in  Vesterbro is a place to wine, dine and chill.  There are also a number of hip hotels in the Meatpacking District Copenhagen in which you can stay! 
We'll take you through this fun area and give you the best selection of hotels in the District. Oh, and whilst we're here we may as well talk about food too…
Meatpacking District Copenhagen 
The area of Kodbyen was traditionally divided into the "White", "Brown" and  "Grey" Meat  Cities respectively. The former buildings are now nationally protected monuments or listed buildings. 
Whilst still holding meat industry businesses, the White Meat City has been gentrified to contain lots of interesting little stalls, businesses and art galleries. The 1930s architecture of the White City is an attraction in itself. The Grey and  Brown meat cities too have been also developed to support creative industries and local arts. 
Now, you can find restaurants and bars in refurbished warehouses with exposed brick and vaulted ceilings. Expect menus heavily centered on meat – steak and fish are popular choices here. And of course, lots of bars and cafes are to be found here too. 
Meatpacking District Copenhagen: who's gonna like it?
This is  a place for travellers who want to experience some  hip nightlife and great bars. However, there is  much more to the Meatpacking District. 
The huge Copenhagen Meatpacking District Food Market operates each weekend between April and October. Here travelers who want to experience local market shopping will have a ball! You can sample here all types of food in a relaxed atmosphere here. 
There is also a cool flea market that  vintage shoppers will love, held every Saturday between April and October at Halmtorvet Square.
Top attractions to do and see in Meatpacking District Copenhagen
Browse the Meatpacking Food Market Copenhagen. Take some fresh  produce home – especially if you are staying in an Airbnb in Copenhagen – so that  you can try some local cooking
Whilst you are there, you have to eat traditional bøfsandwich. It's sort of like a hamburger, except it's covered in gravy. 
International Cuisine exists here too. Try North African, American or Indian food in one of the open-air stalls
If you're looking for an Art holiday, visit an art gallery. Warehouse 9, the V1  Gallery, and perhaps a photography gallery for your holiday art fix. 
Enjoy the evening in a trendy bar. Check out Jolene for example,  where all the cool kids hang
Vintage shopping at the flea market at Halmtorvet Square. Get yourself some interesting Danish artefacts for your home 
Four Hidden Gems in Copenhagen's Meatpacking District
Copenhagen is internationally known as a vibrant city in Denmark regardless of the time of day. But not all people know about the city's hidden gems.
When it comes to art galleries, some of Copenhagen's coolest are situated in an area called Kodbyen which is Copenhagen's Meatpacking District. This is the city's district where most meat processing facilities are located.
Some of the butcheries and processing plants here remain to be active but unknown to many, some have already been converted to art galleries and other entertainment spots that boast of unique concepts.
Apart from the art galleries, some of the facilities in the Meat City are being leased to designer shops, cafes and clubs. A special report published in the New York Times' travel section described the district as an area blooming with creativity amid the still active meat processing plants.
It added that early morning in the Meat City means youngsters coming from the clubs going home and butchers reporting for work. To give you a hint, here are some of the great establishments you can find in the Kodbyen district.
Karriere
This is a bar well known for its great tasting cocktails that boast of authentic ingredients that can be found only in Denmark. These are the elderflower juice and birch water.
Jolene Bar
This is a lively bar that's always filled with all kinds of people enjoying the night away through drinks and dances. Loud music is its trademark and it found just the right spot in the Meat City.
Fiskebaren
Food lovers will surely enjoy the scrumptious seafood cuisine served in this restaurant. If you haven't tasted the tartare of Jutland trout and blue mussels from Holbaek Fjord, this is the place to go if you even visit Copenhagen.
Art Rebels
This is a designer shop that sells clothing for all gender and ages. Creations by Bangbang Copenhagen and Froks are just some of those you can find here.
Find the best Meatpacking District Copenhagen hotel
With such a cool vibe in the Meatpacking District,  why not stay there to extend the experience? There are plenty of hotels around the wider area, suiting a range of budgets. 
Here's  an example of where to stay in the  Meatpacking District Copenhagen. 
Top Budget Hotel
On  a budget? Don't worry. 
The closest budget hotel to the Meatpacking District Copenhagen is the Hotel Ansgar. Close to the central station, you will be able to make use of the outdoor courtyard in summer, plus free wifi. 
Rooms start from around €79 in the high season, so it's an  excellent  option for those wanting to keep  costs low. 
Add  breakfast for just €13 – it gets pretty good reviews. 
Top mid-range Hotel 
Fancy something a bit fancier? 
The CPH Hotel is only a little more expensive but offers a wide range of services.  Stylish Danish design and a good breakfast are yours for just €97 in the high and low season.  
At  only 0.4kms from the Meatpacking district you are also in the perfect location to explore! 
Top luxury hotel
Wanna go all out ? 
Why not splurge out and stay in the Tivoli Gardens!  The Nimb Hotel is one of the most luxurious hotels in Denmark. 
But it comes at a price. A standard room at the Nimb in August will set you back almost €800!!  And you have to pay for breakfast too!   
The Moorish style building, the stunning gardens and the Brasserie are just some of the perks for this price.  
Pick up a "bargain" in the off season  – a room in November is just over €500. 
Meatpacking District Hostels
Copenhagen features  over a dozen hostels. So there is no excuse to not come and  visit, even if you are on a budget. 
One of the closest hostels to the Meatpacking District Copenhagen is the Woodah Boutique  Hostel.  The extremely cool hostel, with pod-style bedrooms and stylish decor is well worth the €29 for a bed in a mixed dorm. Prices include breakfast too. 
The old staple, Copenhagen Backpackers Hostel is also a short walk from the Meatpacking District.  A double room with a shared bathroom can be had here in the summer months from just €49.  It's about €40 in the off season too. You can rent Copenhagen bikes here,  and there is a cool lounge bar in which to relax. 
AirBnB in the  Meatpacking District, Copenhagen
If you would like a  bit more freedom, then perhaps an AirBnB is for you. Here, you will be able to cook for yourself. Maybe with ingredients you pick up in the Meatpacking District food market. 
You can rent a whole apartment starting at about €100. Or if you would rather stay with a local, rent a room instead from just €20.
Where to eat in Meatpacking district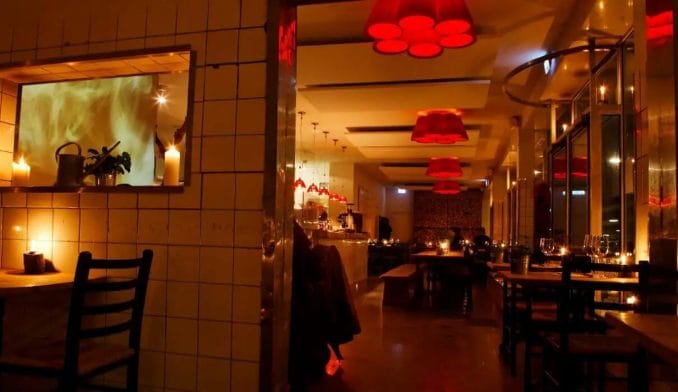 There is plenty of choice  in  the Meatpacking district. 
For the authentic Danish pub food experience try War Pigs. Traditional Danish brewery vibe coupled with Texas Barbeque makes for a good Saturday afternoon after a spot of shopping in Copenhagen. 
Try Fleisch for the industrial style of the Meatpacking District coupled with great danish food.  Or,  if you fancy  Italian food, try Mother. But our best suggestion for food in the Meatpacking District Copenhagen is to walk around and try what you see!
Oh, and don't forget to try some of the best bars in the Meatpacking District Copenhagen after your diner!
FAQs – Meatpacking District
What is the Meatpacking District in Copenhagen?
The former hub of the meat industry in Copenhagen is now becoming a hip and trendy place to wine, dine, and hang. Check out a wide range of restaurants and boutiques, as well as a food market here. 
What to do in Copenhagen Meatpacking District?
Walk around and enjoy the vibe, before sampling the food on offer in the market or in one of the trendy restaurants. 
Where is the Meatpacking District in Copenhagen?
You can find the Meatpacking District in Kødbyen, Vesterbro, Copenhagen.
Where to eat in Meatpacking District Copenhagen?
Whilst there are plenty of different restaurants in the Meatpacking District Copenhagen, some of the best food options are to be found in the Meatpacking District Food Market. Wander around and sample the food here, experiencing the vibe. 
Related articles