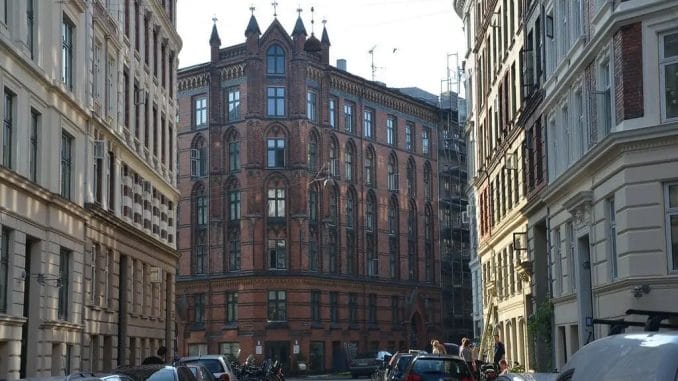 Looking for some fun digs in Norrebro but not sure where to start? Read on to find out just where to stay in the Norrebro district
Introduction
The Norrebro district offers an amazing vibe for those looking to experience a multicultural, hip part of town. This part of town has been re-invented as a foodie, cultural and artsy place to explore.
From cafes, restaurants and bars, to parks and the beautiful lakes, if you choose a hotel in Norrebro you will definitely be in for a fun time!
So, read on to find out more about the Norrebro district and start planning your trip! We have great advice on where to stay, including hostels, hotels and Airbnb in Copenhagen Norrebro.
Norrebro District Copenhagen
Situated in the north west of the cool city of Copenhagen, Nørrebro has not traditionally been on many tourist itineraries. Previously a little…..how shall we say it….dodgy, this area is being regenerated into an amazing place to explore.
It might be a bit of a trek from the centre of Copenhagen – Indre By – but it is well worth a look. You will find Norrebro about 30 minutes' walk from the centre, or you can get one of the local busses (the 5C for example) up to the centre of Nørrebro.
The Jægersborggade area of Nørrebro is a prime example of this transformation. Previously a place you would not like to wander around in at night, Jægersborggade is now a street full of interesting one of a kind boutiques, little cafes and art shops.
If you are into vintage clothing and rummaging around for a special bargain, head to the Ravnsborggade where you will find a wide range of second hand shops.
Nørrebro: what type of travellers will enjoy this area?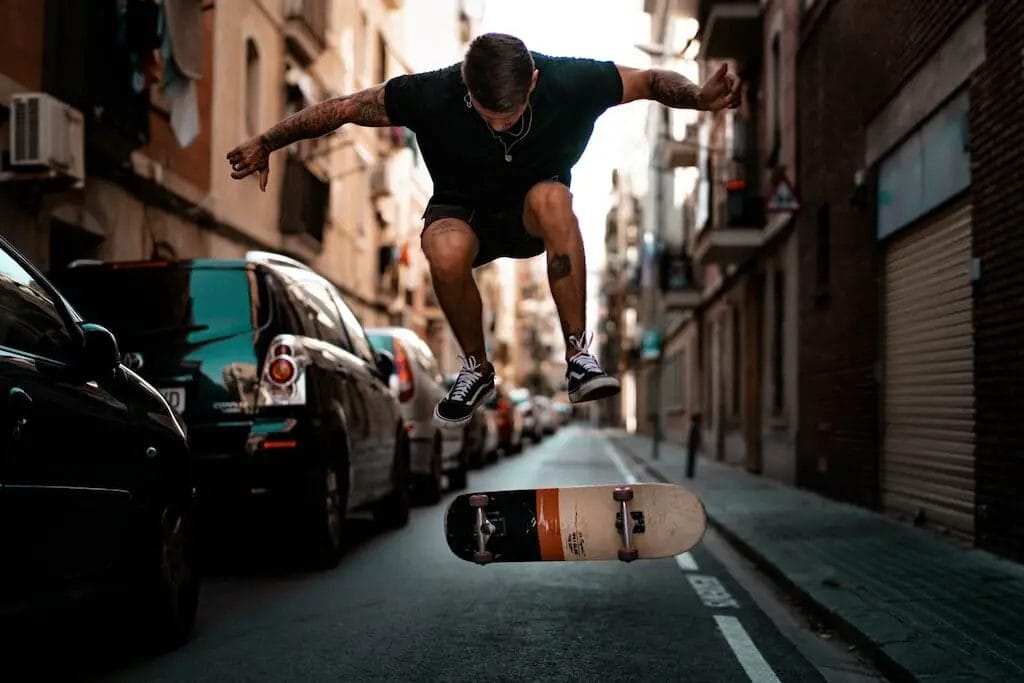 If you are looking for the usual sights of Denmark – the city centre, the iconic harbour and the old town, this is not the place for you. Those who pick a hotel in Norrebro prefer an edgier vibe, like checking out attractions at their own place, and want to get a unique take on a modern city.
As you will see here, Nørrebro is also an excellent place for backpackers. The multicultural nature of the area means you will be able to experience a diverse part of town. We have featured a couple of great backpacker's hostels in this guide so you can be sure to find somewhere to stay on any budget.
Top things to do and see in Nørrebro
1.     Dine out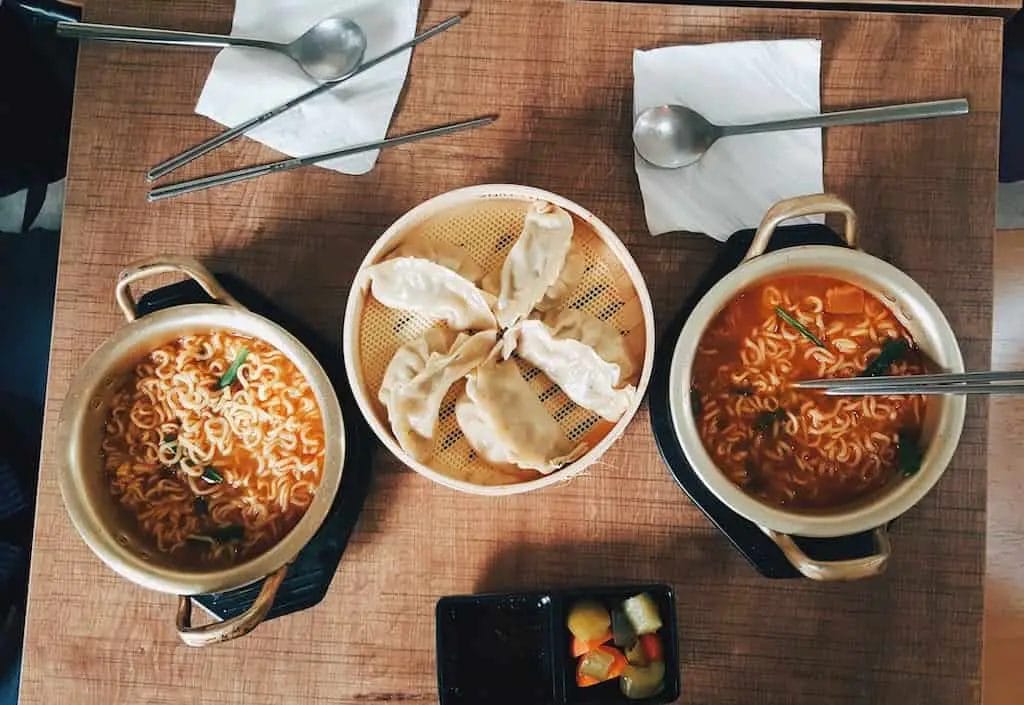 The Nørrebro area is THE place to sample amazing local and international cuisine on any budget. Here, you will find the famous Grød porridge café – if that is your thing.
If you are tight for cash, Norrebro alsooffers a great range of Asian, Turkish and Middle Eastern fayre. Get a street side kebab, a bowl of noodles or some delicious baklava all in one small area.
You had better bring your loose fitting pants to make room for all the food!
2.     Get Ghoulish
Assistens Cemetery is located in Nørrebro. Funnily enough, it is one of the most visited places in Copenhagen!
Popular with locals for their daily walk, you can also visit the resting place of Hans Christian Andersen and several other famous Danish icons[Office3] .Despite being the final resting place for many over the centuries, the grounds of the cemetery are a lovely place to explore!
3.     Hang out with a skater boy
For open spaces, you cannot miss the Superkillen Park. Especially on a good day, you can see skateboarders showing off their tricks.
This park is also helps you get a feel for the very many different cultures living in the area. It is dotted all over with signs and symbols from over 50 different countries! The park has slides and swings from Iraq and Chernobyl, and the trash cans come from the United Kingdom!
This truly is a place that reflects the diverse makeup of the Nørrebro area. Check it out and let us know what you think!
4.     Take a walking or bike tour of Nørrebro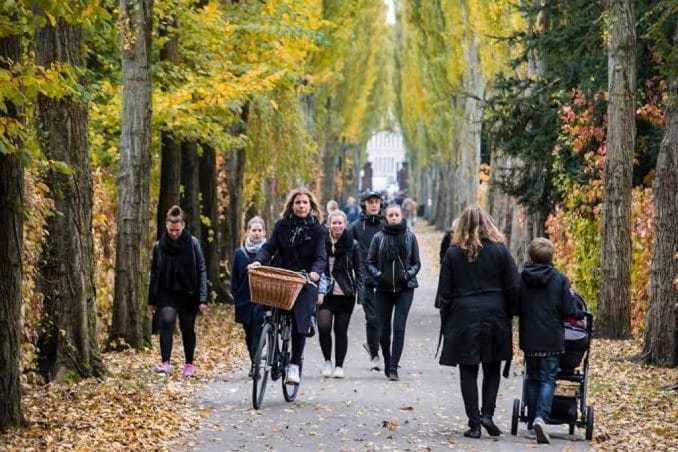 There are several companies offering walking tours of Nørrebro. They offer agendas including the attractions listed above, and some bolt on a food tour too, which would be a great way to experience the multicultural face on offer in Nørrebro.
Tours last about 2 hours and start from €33 for an adult. Of course, Copenhagen is known for its bikes, and you will likely see more bikes than cars in Nørrebro.
There are several bike rental companies in the vicinity if you wish to explore the area on two wheels.
Find your hotel in Norrebro
Top budget hotel in Norrebro
Check out the Cabinn Scandinavia for a decent budget hotel near Nørrebro. You will find this hotelabout a 20 minute walk from the Nørrebrogade. It is also well located for the attractions of central Copenhagen too.
With double rooms in the summer starting at just €90 in the high season this is a great option for those who want to be close to all the action. You can book the Cabinn Scandinavia here.
Top mid-range hotel in Norrebro
A&O Copenhagen Norrebro is a great choice for those looking for a mid-range hotel in Norrebro.
We would also recommend this one for those travelling with kids – there are double rooms with kid's bunk beds available from just €132 in the high season. In the off-season, a double room with breakfast will start at €77 per night. You can book the A&O Copenhagen here.
You can find the A&O Copenhagen just beside the Bispebjerg Station.
Top luxury hotel in Norrebro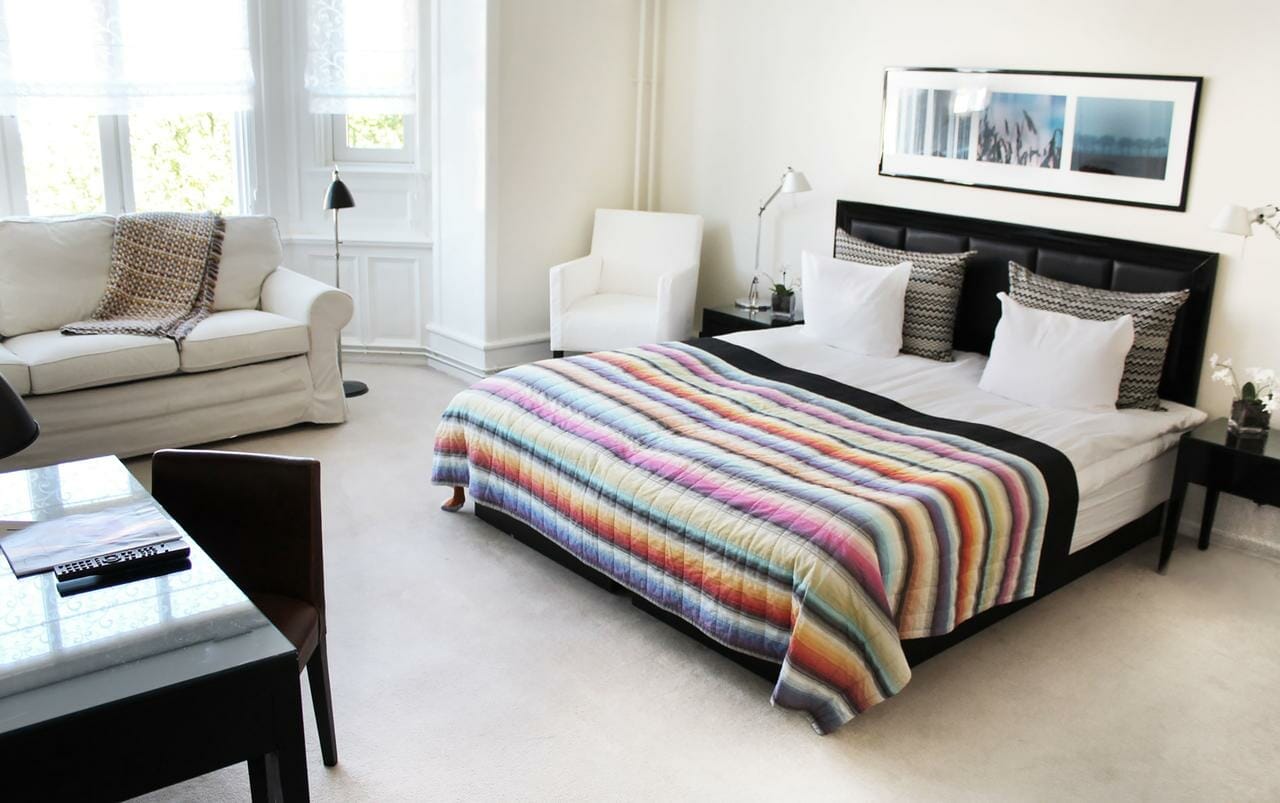 If you are looking for just that little bit of luxury then you might need to head closer to the centre of Copenhagen. After all, Nørrebro is popular with students, backpackers and budget travellers.
Your best bet if you want to stay in comfort near Norrebro is the Avenue Hotel Copenhagen. Located just a 15 minute walk from Nørrebro, the Avenue boasts stylish décor and rooms starting at €110 in the off-season. In the summer, a double will set you back €183.
You can book the Avenue Hotel Copenhagen here.
Hostels in Copenhagen, Nørrebro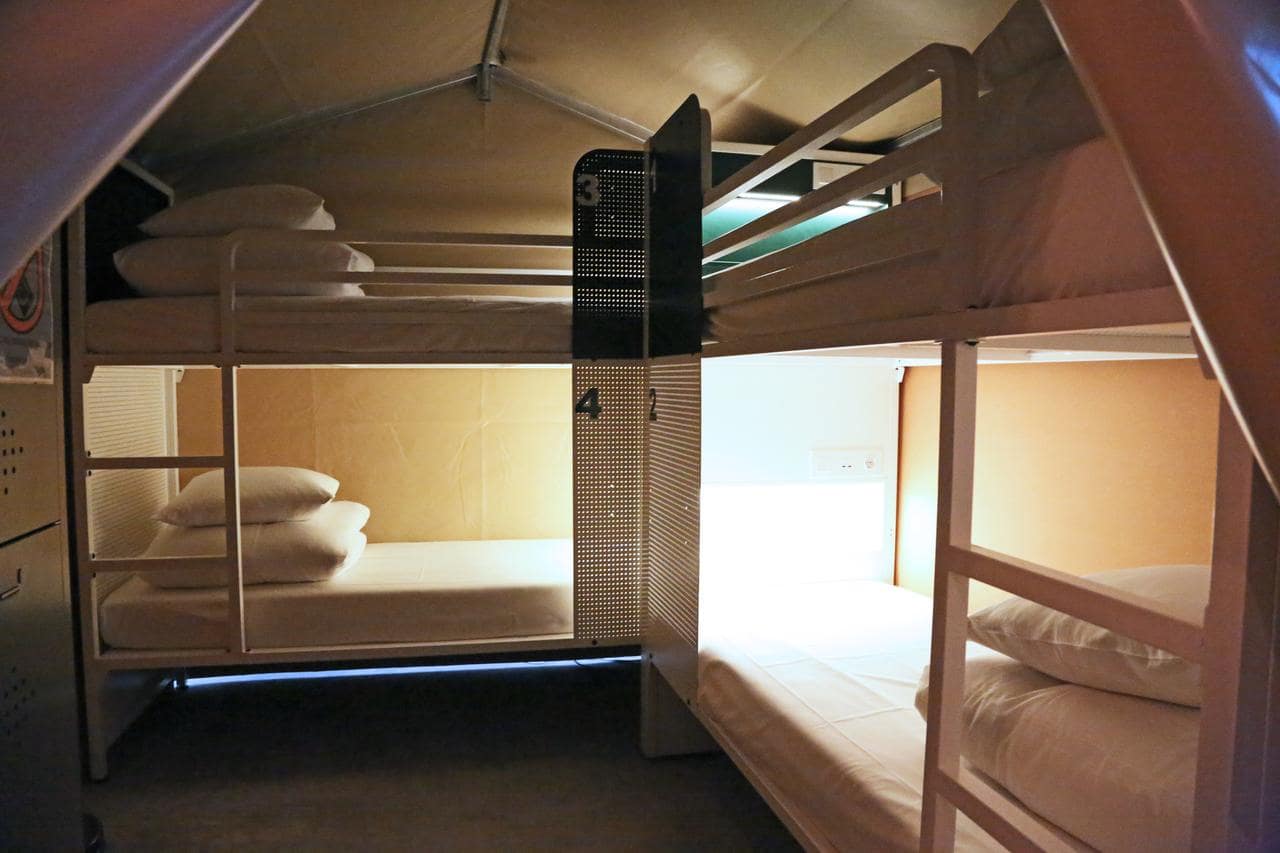 This area is a backpacker's mecca.  It is a diverse neighbourhood with over 50 nationalities, so is the perfect place in which to mingle with like-minded travellers. The area boasts several great hostels at which to accommodate you – check them out here:
We told you Nørrebro was unique. Well for budget travellers we have something extra special! Check out the Urban Camper Hostel for a truly different experience. Opened in 2019, this brand new camping themed hostel Copenhagen Norrebro offers budget beds in a brand new facility!
A private double tent with breakfast is only €45 for two people in low season and about €100 in the high season. Shared "tents" start at just €40 in high season. It is located just beside Nørrebro station too. You can book for the Urban Camper Hostel just here.
There is also the Globalhagen Hostel is a fun, not for profit accommodation that prides itself on being eco-friendly. A bed in a mixed dorm starts at just €35. You can book for the Globalhagen Hoster just here.
Airbnb Norrebro Copenhagen
If hotels and hostels are not your thing then why not check out an Airbnb in Nørrebro Copenhagen.
Airbnb is perfect for those who fancy their own space and like to do a spot of cooking. It is also a good option for those travelling with kids who need a bit more space and privacy.
Renting an Airbnb in Norrebro is also a great way to tap into a local host's knowledge and really get to know the area.
Get a room in a shared flat for just €16 per night, or rent your own place starting at about €50.
B&Bs in Norrebro Copenhagen
Another good option for those looking for a homely touch and perhaps the benefit of a local host. There are not actually many B&Bs in the Nørrebro area, but you can make use of the city's excellent public transport to get from A-B.
The nearest Bed and Breakfast is about a 30 minute walk to Nørrebro. Check out the Pea Blossom Bed and Breakfast if a B&B is your thing. With double rooms starting at about €85 a night you can be sure of a comfortable experience.
Some rooms also benefit from a balcony too, and you can enjoy a delicious breakfast whilst chatting to other visitors.
Conclusion
If you are looking for somewhere to stay that truly reflects Copenhagen's demographic makeup, enjoy shopping in alternative stores and trying international flavours, Nørrebro is for you.
We hope we have given you some good examples of accommodation in Norrobro. Now, it is time to get booking! Let us know where you stay!
Related Articles :