Who doesn't love a good street food experience? We for sure can't get enough of it. When we travel in Europe – and beyond – we always make a point of checking out the best local dishes.
The thing about Danish street food is that it's casual. There is no one to impress. It doesn't matter what you wear. And you can try a little of everything! What's not to love?
So, when you are in Copenhagen, we insist you try out Reffen Copenhagen! This environmentally sensitive hotspot is the place to be when exploring hip Copenhagen.
Check out the details below.
What is the Copenhagen Food Market?
Right, let's explain. Here's What the Reffen Copenhagen is all about. Get the low down today.
The Concept
Basically, it's an indoor food hall. Where you can try literally ANYTHING you can think of. Touted as the "biggest street food offering in the Nordics", the Reffen is the food market in Copenhagen.
Located in the hall of a former shipyard, the atmosphere is more local vegetable market than restaurant. The vibe is AMAZING and you can sample a wide range of local and international cuisines.
Or, check out Reffen Copenhagen rafenpurg. The concept is such : the market is open to everyone:
families,
office parties,
or romantic dates.
And it is committed to giving budding entrepreneurs the chance to stand on their own feet.
The Community
The Reffen Coppenhagen Street Food is a real utopia. Support the local food community here.
This is a place for small, little businesses. There are no multinationals here. The Golden Arches are a swear word.
Check out stalls with food prepared in a locals kitchen, or van, and contribute to the local community!
The food market Copenhagen goes even further however, inviting local musicians and artists to showcase their work too.
The Convictions
The setup is extremely focussed on sustainable living. The tenants to the stalls get a discount on their stall rent if they support organic cuisine. All the cutlery and plates need to be sustainable.
The organisers are for sure committed to the protection of the environment, climate and local businesses.
Types of Reffen Street Food Copenhagen
Here's the good bit. What can we eat at the food market Copenhagen?
Food Stands
Literally a foodies dream.
Stall owners get a three year tenure to show their skills. At the minute there is greek food, italian, indian, mexican, japanese. In the words of Freddie Mercury – i want it all.
Plus, be prepared for some local Danish treats.
Our top 3 selection of the best stalls in Reffen
The stalls at this Copenhagen Food Hall are constantly changing. But, here's a selection of our 2021 favourites:
Dhaba – an Indian stall – is one of our favourites. OMG. If you are gluten free, vegan, vegetarian. No issue. There is something for everyone.
The Real Greek – Give me all the stuffed vine leaves you can master!
Muchos Tacos – Me Gusta! That's all I can say. Oh, and please can I have some nachos…
What's so special about Reffen Copenhagen Food Hall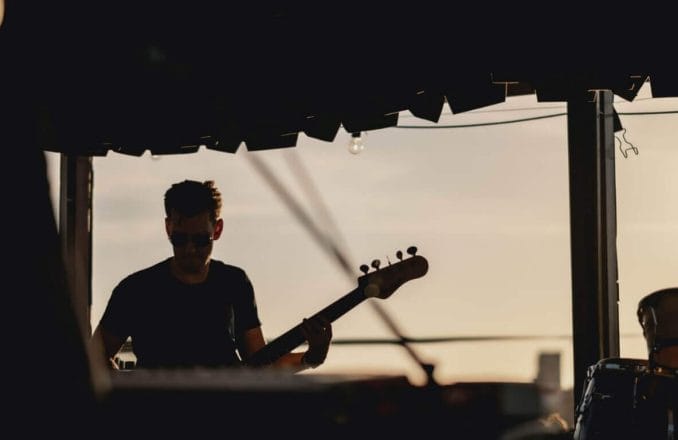 Oh we can't get enough of this place! Here's why:
Positive energy & atmosphere – This is a place that fosters creativity. It sponsors local artists. It shuns conglomerates. It is welcoming for all!
Events that people love – Reffen is known for hosting cool events that support the local community. From seasonal events, to budding musicians, to ethnic vibes, the events are cool! Check them out here.
Booking tables for friends – For groups of over 5 people or more, the site recommends you book a table. For smaller groups, it is encouraged to just rock up.
Private Parties – If you want to book a private party at the food market Copenhagen, there is a private email address (salg@reffen.dk)to help you arrange everything
Reffen Copenhagen Winter Tips from Locals
Reffen Copenhagen is a definite summer hangout. However don't discount the Denmark winter vibe. The venue is open during December, with wood burning stoves contributing to the Christmassy feeling.
Details about Reffen Copenhagen Prices
The food stalls aren't extortionate. In fact, grabbing a few dishes from here is probably more economical than eating out in the centre of town.
Food market Copenhagen Tips for Vegans
If you are a vegan there is no issue at the Copenhagen Food Hall. The India food stalls offer great range of vegan, vegetarian and gluten free dishes.
Reffen Workshops
The Reffen is not only about food. There are also local workshops on offer, in a bid to support local artists. From tattooists to porcelain handicrafts, the Reffen workshops offer a traditional taste of Copenhagen.
Most Liked Reffen Copenhagen Instagram Pics
Reffen Copenhagen is a pretty "Instagrammable" place to hang out. To check out all of the cool things going on, see the Instagram Account here. There are so many amazing snaps here of the Copenhagen Reffen.
Reffen Useful Informations
For contact direct to the organisers use the below information:
INFO@REFFEN.DK
Address is REFSHALEVEJ 167 – 1432 KBH K
How to get to Reffen Copenhagen
Situated on the Refhaleøen, a man made island, Reffen Copenhagen is accessible by the 2A bus. You can take the 2A bus to get you there. The complete address is Refshalevej 167 Unit A, 1432 København, Denmark.
Finding Parking at Reffen Copenhagen – Reffen Copenhagen Parking
There are parking places available at the Reffen Copenhagen. Plenty in fact, according to their website.
Reffen Copenhagen Opening Hours
The Copenhagen Food Hall of Reffen is open from 11am to 10pm.
Frequently asked questions
Does Reffen close completely during the winter months?
Reffen is open in December, then closes until March/April.
Can you book a table in Reffen?
If you want to book a table in Reffen, contact INFO@REFFEN.DK. This is generally recommended for groups of over 5 people.
Can I bring my own food or drinks to Reffen?
No! Support the local economy and buy some of the local foods when in Reffen.
Can I bring a pet to Reffen?
The main pet people ask about is a dog. The organisms are enough with dogs as long as they are well behaved.
What To Do At Reffen If It Rains?
Don't worry if it is raining in Reffen. The place is sheltered, and you can have a number of relaxed areas in which to chill. Don't sacrifice the vibe for the rain.
Conclusion
Our absolute favourite place to eat when in Copenhagen. Check out the Reffen if you want to explore real culture, authentic food and a relaxed atmosphere.
To feel the vibe, head to Reffen Copenhagen! The area is best visited in the spring, summer and autumn months. Try Indian Samosas, Chinese Noodle and Mexican Tachos mixed with a local flair.
Related articles