Every year 15,000 people travel to Denmark to get married. Often this is because they have Danish friends and family, and sometimes it is simply because they love the country. It is easy to get married in Denmark, and Denmark was also the first country in the world to legalize same-sex marriage in 2012. 
Danish weddings are fun and often informal – most people get married at the city hall or a small church, followed by a meal with friends. There is lots of singing, dancing and drinking to celebrate.  Whatever kind of wedding you choose to have, there are some wonderful Danish traditions, many of which date back hundreds of years, that are still popular today. 
Wedding Jewelry
Giving an engagement ring is a fairly new concept in Denmark, and the majority of people don't have engagement ring, though they are a growing trend in line with the rest of Europe and the wider world. Couples almost always exchange wedding rings , and they are usually classic gold bands that are quite thin. Having your rings made by a jeweler is very popular, as your wedding bands will be unique. 
These rings symbolize your love and union together. There are very few mainstream commercial jewelers in Denmark, so often wedding rings are made by an independent goldsmith. In Denmark, older, or more traditional couples often wear their wedding ring on their right hand, rather than their left. In Sweden and Norway, the wedding ring is worn on the right hand too.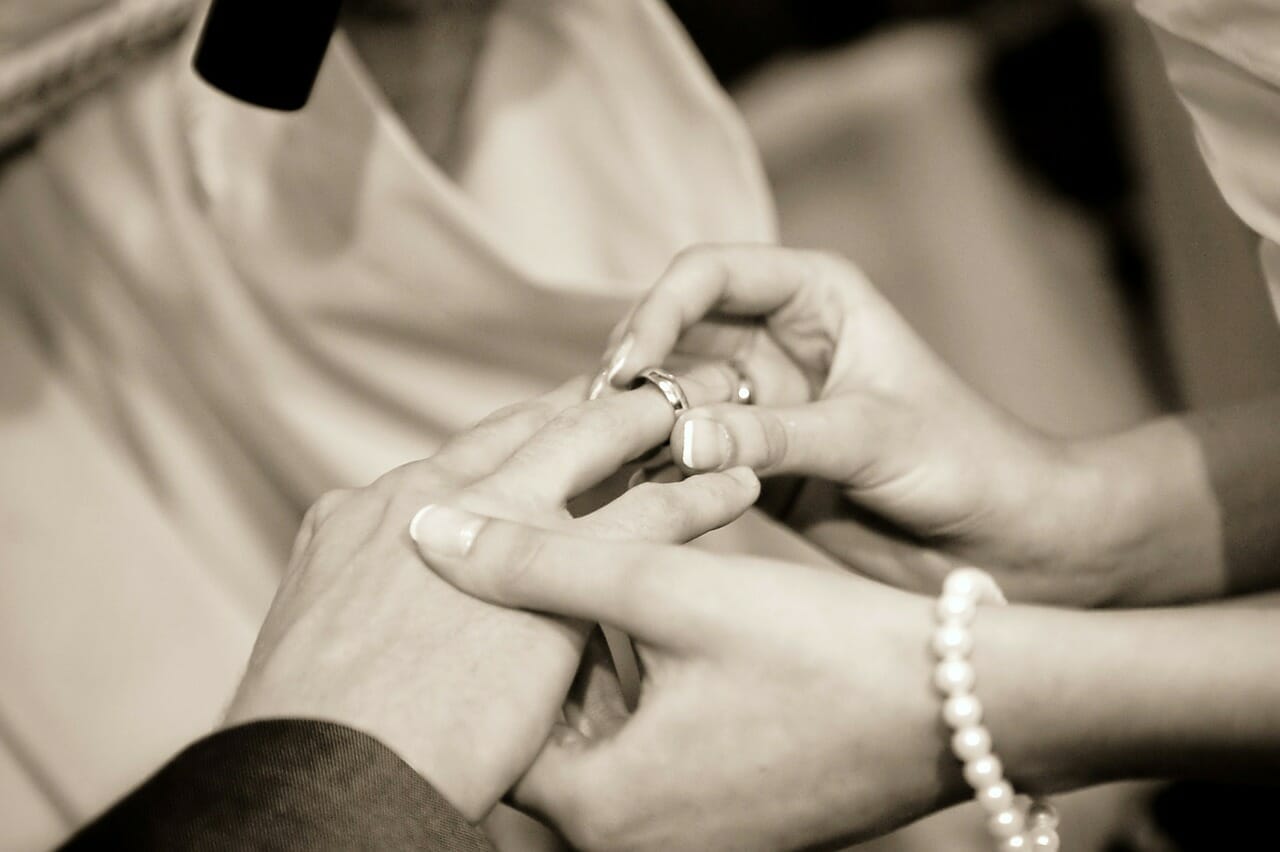 The clothing
Traditionally a Danish bride will wear a white dress with a veil. The bride will also wear something red, symbolic of love, but also to ward off evil spirits. The groom will always choose the bridal bouquet for the bride, but must never pick the shoes, as this is considered to be unlucky. 
After the wedding, the bride's shoes must always be kept as an heirloom, and never thrown away. 
The party
After getting married, most couples have a party with family and friends – and children are never excluded. The party isn't normally the big lavish affair that you see with many American weddings, but instead an informal celebration or a meal at a bar or pub. 
The tables for the guests are arranged in a big rectangle so that everyone can see each other. Speeches at a Danish wedding aren't just reserved for the bride's father and the groom – it is common for every guest to say a few words. There is often lots of singing, and the first dance together is always a waltz. This dance, known as "brudevals" must be danced before midnight. 
The music comes from a ballet called A Folk Tale, written in 1854 by the composer Niels Wilhelm Gade. After the first dance, the male guests at the party remove their socks and cut the ends off. It is believed that this will stop the groom ever being interested in another woman again. 
Final word
There are many interesting traditions in Denmark that are still popular today. If you are planning a Danish wedding, it is a lovely idea to incorporate some of them into your own ceremony.