Found in the southwest end of the Jutland Peninsula in Denmark, Ribe is prided as one of the oldest towns in the country. Its history is very much entwined with that of the Vikings, as this port has become an important entry-point for traders as far as the 8th century. At the present time, Ribe has about 9,000 inhabitants, and was recently merged as part of the greater municipality of Esbjerg.
There are tons of activities you can expect to do while in Ribe, and one of them would be to take a tour of its historic churches. The largest one in this town is the Ribe Cathedral, or the Ribe Domkirke, whose construction was completed around the year 1250. Two kings held tombs within the cathedral, Christopher the First and Erik Emune.
For the kids, what better way to teach them about Danish history and the age of the Danish Vikings than to take them to the Museet Ribe Vikinger, or the Viking Museum overlooking the Ribe River. In this special exhibit, get to see a recreated full-sized Viking ship, as well as let the kids play dress up in Viking costumes.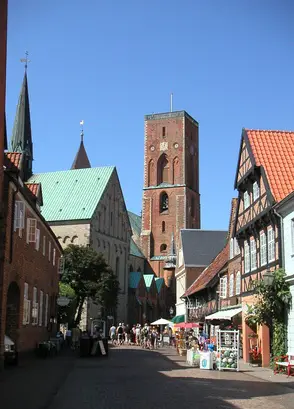 Speaking of Vikings and their history, there is a yearly event for the Danish that is celebrated only in Ribe. The Annual Viking Market becomes a meeting place for Viking fans, locals, and tourists alike. Here, the guests can watch live performances and demonstrations of Viking weaponry, horsemanship, crafts, and more. The Ribe Viking Market serves as a reminder of how significant this region has been in terms of seafaring trade for more than 1000 years.
Here is something more fun for the kids as you take them on your family holiday in Ribe, Denmark. The local toy museum, known as the Legetojmuseum, is a great destination where playthings and memorabilia dating back to more than 150 years are displayed. Get a chance to see the evolution of toys as you journey through the doll collections, robots, model cars, bears, and more. Other museums you might want to check out while in Ribe are: the Ribe Kunstmuseet or Art Museum, and the Det Gamle Radhus, or Town Hall Museum.
Because Denmark is proud of its natural resources and unforgettable scenery, your trip to Ribe will not be complete without a visit to the Mando Island nature reserves. In this idyllic destination, you can see flora and fauna that Denmark is proud of. Various species of local and migratory birds can also be spotted here. Moving on to other active pursuits, Storkesoen is an ideal site for tourists who like to go fishing, as it features artificial lakes teeming with fish of all sorts, with trout being the most abundant. These lake venues are also great for boating, picnicking, and for sightseeing.
The central market square of Ribe in Torvet has kept is age-old charm, which is why a lot of visitors like to gather here. You can take a ride on a horse-drawn carriage along the rustic cobblestone streets in Torvet, as well as enjoy the shops and food stores in the square.