Denmark is one of the world's top tourist attractions. On a trip to Denmark, you will see different buildings, old churches, and castles, whilst also uncovering its vibrant nightlife and culture. Apart from these numerous attractions, you will no doubt be drawn to the interesting museums in Denmark as well.
Whether you are a history buff or you just love art, you need to visit some of the beautiful museums and galleries in Denmark!
20 Cool Denmark Museums: Choose at Least 3 to Visit
To make the most of your trip to Denmark you should plan to not just include visits to top tourist attractions and common historical landmarks.
A must-do for any traveler is to also set aside time to explore the area's various museums. Luckily this "must-do" task is not much of a problem when in Denmark! This Nordic country boasts several great museums of various types – so make sure you note the ones that interest you in your itinerary.
Louisiana Museum
The Louisiana Museum of Modern Art showcases four different collections consisting of beautiful and unique art pieces. The building itself is located on the North Zealand coast and is a historical structure, having been built in 1958 as a center for art, architecture, and landscape. Each year, the museum also accommodates four to five temporary exhibitions. Good news for those travelling to Denmark with children too! There's a separate play area exclusively for the kids.
Located around 25 miles from Copenhagen, the museum offers a wide range of interesting events – including things like autumn jazz – and there is a restaurant and outdoor cafe. The Louisiana Museum ranks high for those looking for a rainy day activity in Denmark with kids, as it boasts a dedicated children's wing. Under 18s go free too. Check out the website for tickets, opening times, and the "what's on" section.
Address: Gl Strandvej 13, 3050 Humlebæk, Denmark
National Museum of Denmark – Nationalmuseet
This National Museum of Denmark is situated inside a mansion that dates back to the 18th century. Visitors will learn about life during the reign of the Vikings and see medieval artifacts. There's also a 1970s sitting room on display and children can get a hands-on experience in a specific section meant for kids.
Stop at this museum if you have an interest in Danish history. From Viking treasures and jewels belonging to the Danish Royal Family to the interesting "Stories Of Denmark" section, you'll be captivated. Follow your visit up with a trip to the restaurant for some traditional Danish food.
The National Museum of Denmark price is fairly reasonable. Adult tickets start from 100 DKK and kids under 18 years old are free. The National Museum of Denmark opening hours are generally between 10 am and 5 pm however there are some seasonal variations. Check the full scope here. Also, you can book your tickets here.
Address: Ny Vestergade 10, Copenhagen
Viking Museum Denmark
Obsessed with Vikings? Then why not go all out and spend the day at the Viking Ship Museum Denmark? This is an amazing museum that consists of 5 discovered Viking Ships. The Skuldelev Ships as they are known are over 1000 years old!
The museum showcases their history, the method of manufacture, and the interesting reason why the ships were sunk! Check out all the important information on the museum on the extensive website in order to plan your trip. The Viking Museum in Denmark is about 40 minutes from Copenhagen and is open daily from 10am. There is a range of tickets available – visit the ticketing page on the website for guidance.
Address: Vindeboder 12 . DK-4000 Roskilde
Lego Museum Denmark
Big Kids and Little Kids alike will love the Lego Museum Denmark. It may come as no surprise that the museum is themed with Lego, but the Lego-inspired architecture is truly mesmerizing. Located in Billund, the home of lego, the museum is supposed to offer a welcoming space for tourists, locals, companies, and students – and of course kids.
Highlights include the massive Tree of Creativity, The Green Zone land of minifigures, and the creative Blue Zone. Open usually from 10am to 4pm, it is recommended you check the website in advance in case of any special closures. Get discounted tickets online for the Lego Museum on the website.
Address: Ole Kirks Plads 1, 7190 Billund, Denmark
Ribe Museum Denmark
Denmark's oldest town is Ribe – and it is worth a visit in its own right. In fact, it is the oldest town in Scandinavia and features beautiful cobbled streets and medieval homes – perfect for photographs! To celebrate the area's long heritage, the Ribesvikinger Museum offers an amazing look into Viking Heritage.
With a reconstructed Viking market, arts and crafts, and costumes, this is a great way to feel the Viking vibe. Plan a trip for the whole family on the detailed website here. Adult tickets start at 130 DKK and the museum opens at 10am or 11am depending on the season.
Address: Lustrupholm, Lustrupvej 4, DK 6760 Ribe
Tøjhus Tøjhusmuseum Denmark – Danish War Museum
The Royal Danish Arsenal Museum is located a 15 minute walk from Copenhagen Central Train station. This is one for those interested in the military history of Denmark starting from the 1500s.
Including an extensive section on the Danish Navy and a whole treasures section where you can see armour and weapons, you can spend an interesting few hours here. Note that the museum is currently attempting to address accessibility issues to its upper floors, as there is currently no elevator. Check out the opening times and how to plan your visit here.
Address: KrigsmuseetTøjhusgade 3 DK-1220 København K
ARos Aarhus Kunstmuseum
This is one of the largest Denmark museums in northern Europe with a total floor area of 17,000 square meters. You will find three different collections in this museum, the Danish Golden Age, Danish Modernism, and the Contemporary Art section.
Its name was acquired from the Old Danish name of the city, Aarhus, while Aros refers to the Latin word for art. Open from 10am and closed only on Mondays, the museum offers late-night viewings until 9pm on Tuesday, Wednesday and Thursday nights. Children under 18 have free entry, and adult tickets begin at €19. Check out what exhibitions are on at the museum online on the ARos AArhus art museum website.
Address: Aros Allé 2, 8000 Aarhus C, Denmark
Skagen Denmark Museum
Skagen has been known as a famous art haunt in the late 19th century. Budding artists from all over the country would visit to get inspired and showcase their creations. The Skagen Art Museum contains an extensive collection of 19th and 20th century painters who worked in Skagen.
The museum was founded in 1908, where the first idea was to collect works by Skagen local painters to set up the exhibitions. The museum boasts a garden as well as a restaurant. Useful in corona times, the museum has also set up online access to several of the works. It also has provided paintings exhibited online for people all around the world to access their works.
Address: Brøndumsvej 4, DK-9990 Skagen
Experimentarium
This is a national science museum where children can experiment with a range of gadgets and electronics, from levers and buttons to triggers, and learn from them. There are several sections that are sure to captivate your children's attention for the entire afternoon. It's also here where the bubble show takes place each year.
You can read more about the Experimentarium on the website. Big and small kids alike will be excited with features such as the light exhibition or the bubbelarium! Children under 2 go free, whilst adult tickets start at 199 DK for a single visit. And don't worry – adults are allowed to have fun too!
Address: Tuborg Havnevej 7, 2900 Hellerup, Denmark
The Design Museum Denmark Copenhagen – Kunstindustrimuseet
This Museum of Applied Arts features handicrafts made from methods that started during the Middle Ages and are still being applied today. The museum showcases china, fabrics, silverware, jewels, furniture and household items.
For the reasonable Design Museum Denmark entrance fee you can get a sense of not only Danish artefacts, but also international pieces as well. And those of you who have got on board with Scandinavian design in recent years may want to check out the massive database of Danish furniture that is on display!
The Design Museum Denmark opening hours are usually displayed on the website. Note however that the museum is currently closed and will reopen in 2022.
Address: Bredgade 68, 1260 København, Denmark
The Museum of Copenhagen – Københavns Bymuseum
Situated near Vesterbro Torv, the building in which this museum is housed was constructed in 1797. Visitors here will learn about Copenhagen's history and developments through film and audio. If you are on a city break to Copenhagen, this is probably one you should hit up, especially if you do not have a lot of time in the city.
Open daily from 9am, you'll have plenty of opportunities to pop in and explore the design of this great European city. Adult tickets are 90 DKK for which you get access to the Kobenhavn Bymuseum but also to the Thorvaldsens Museum and Nikolaj Kunsthal as long as you visit within 48 hours of first use.
Address: Stormgade 18, 1555 København V, Denmark
Cisternerne, Sondermarken
This museum features a pyramid-shaped entrance made from steel and glass. Inside, visitors will be awed at the collection of stained glass art. Located underneath a hill in the Sondermarken Park, this museum is certainly one of the quirkiest we found. The structure is not a building, but a cave!
It holds one annual exhibition by one lucky selected artist who gets to showcase their work for 23 whole months. Closed from December through to mid-March, you can only catch this attraction from the spring through to late fall. Check the site here.
Address: Bag Søndermarken, 2000 Frederiksberg, Denmark
Moesgaard Museum Aarhus Denmark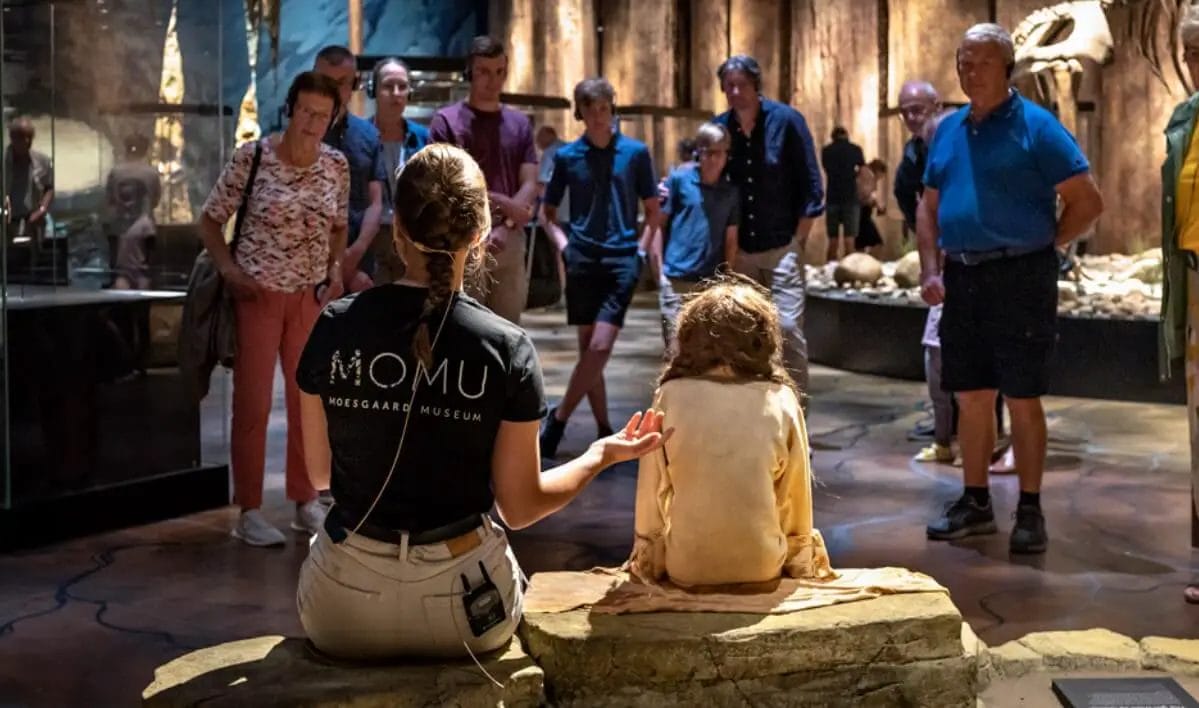 Moesgaard Museum Aarhus Denmark is focused on showcasing archeology and Danish history. In cooperation with Aarhus University, the Moesgaard Museum offers views of amazing Danis artefacts.
But there is also a great collection of over 50,000 international pieces too. With bronze age statues and open-air reconstructions, this museum will let you experience rebuilt churches and other historical buildings as you tour around.
Children under 17 years old go free, and adult tickets cost 160 DKK. See what you can visit and plan your trip on their website.
Address: Moesgård Allé 15, 8270 Højbjerg, Denmark
Trapholt Museum
Not only will you be able to see art in this museum but you'll also experience modern Danish fashion. At the Trapholt Museum you will also be able to experience Kubeflex designs – one of Denmark's interesting modern art and modular living spaces.
Famous Danish designer Arne Jacobsen designed and owned the place as a summer house. You can tour this space and then head to the cafe for a rest and a coffee. Closed Mondays, the museum is open usually until 5pm, apart from late-night Wednesdays. Check out all you need to know about the Trapholt Museum online on the website here.
Address: Trapholt, Æblehaven 23, 6000 Kolding, Denmark
Egholm Museum Denmark
This privately-owned museum contains a lot of WW2 memorabilia, including an extensive collection of handguns. It's only open on Sundays and Thursdays from 10am to 4pm, but if you can arrange your trip to fit it in, it is going to be well worth it.
Adult tickets are 120DK and children's entry costs 50 DKK. You can book online with the help of google translate! Check out the website here.
Address: Trehøjevej 47, 4070 Kirke Hyllinge, Denmark
Brandts Museum Denmark
Brandts Museum Denmark is a display of new and classical art in Odense. Films, international art and drawings combine to make for an interesting display.
Usually open from 10am to 5pm (with late night openings on Thursdays to 9) and closed on Mondays, you will have more than enough time to get there if you are staying in Odense. There is also a cafe where you can grab a sandwich or a salad after a long day of sightseeing. Visit the Brandts Museum Denmark website to plan your visit.
Address: Amfipladsen 7, 5000 Odense, Denmark
Carlsberg Museum Copenhagen Denmark
It might be a mistake to visit Denmark and not check out the Carlsberg Museum! Unfortunately, however it is currently under renovation, the website stating that the building and surrounding area needs an upgrade.
As a result, the venue, outside areas and the Carlsberg Brand Stores are currently closed. Keep checking the website for the new opening date – you may be lucky enough for it to be open by the time you get to Denmark!
Address: Valby Langgade 1, 2500 København, Denmark
Women's Museum Denmark – now the KØN – Gender Museum Denmark
Located in the old city hall of Aarhus, the Women's Museum of Denmark has changed its name to the KØN – Gender Museum Denmark. It showcases the history of gender politics in Denmark.
Documenting the change in roles for both women and men in Danish society over the decades, the museum gives an interesting insight into the progress made for equality between the sexes. The museum is open from 10am every day apart from Mondays when it is closed. Visit the website for more information.
Address: Domkirkepladsen 5, 8000 Aarhus, Denmark
Open Air Museum Denmark
This is one of the biggest and longest established open-air museums in existence. Situated just 30 minutes from the centre of Copenhagen, this is a folk museum that will walk you through traditional Danish life from days of yore. Check out traditional homes, costumes, and handicrafts as you explore a reconstructed Danish village.
This is a really fun thing to do with all the family. The Open Air Museum Denmark can be reached by taking the S-train line E to Sorgenfri. There is a restaurant on-site and you can also bring your own picnic. Visit the website here to plan your trip and book tickets.
Address: Kongevejen 100, 2800 Kongens Lyngby, Denmark
The Danish Music Museum Denmark
Founded in 1898, the Danish Music Museum showcases over 3000 years of music history. With hands-on exhibits for the kids and a wide collection of instruments, there will be plenty to keep everyone entertained. Located in the same building as the Royal Danish Academy of Music, the museum is in the best place to feel a musical vibe!
An adult day ticket usually costs just 65DKK. Please note however that due to the coronavirus situation the museum is currently closed. You can find updates on the website in the meantime.
Address: Åbenrå 30, 1124 København, Denmark
Free Museums in Denmark: What Else Will You Need?
When the modern world starts to bore you, there is nothing like a trip to the museum to bring out your artistic side . Luckily, you've got a handful of museums all over Denmark and most of them come with free entry! Isn't that just amazing? For example, the Ny Carlsberg Glyptotek is situated in the middle of Copenhagen and is open every Sunday. If you're looking for a relaxing thing to do on a nice quiet Sunday, then a trip to this museum and down memory lane is definitely a good idea.
The Tøjhusmuseet (The Royal Danish Arsenal Museum) is also in Copenhagen and is open on Wednesdays. When you need a breather in the middle of a stressful week in school or at work, then a trip to this Museum right in the city will shake off that stress straight away. There is also a section where you can learn more about the history of the Royal Danish family and will give you a glimpse of what this important Danish institution is all about.
If you are wondering if there are Denmark museums you can go to at any given time of the day or the week, then you are lucky to be in Denmark. The Post & Tele Museum is open the whole week long. Whether it is a museum trip with your friends or perhaps an educational historical trip with the kids, then this is the museum to go to. It is open every day making it accessible to working parents and kids who spend the whole week in school.
What else do you need when almost all the museums in the country are state-subsidized? If you're not a museum fan yet, there is no reason for you to skip visiting any one of these Denmark museums.
FAQs about Denmark Museums
Where is the lego museum in Denmark?
The Lego Museum in Denmark is situated in the home of Lego in Billund.
How old is the National Museum of Denmark?
The national museum of Denmark was established in 1807.
How many museums are there in Denmark and Copenhagen?
Copenhagen alone has over 53 museums! So you are sure to find something for everyone throughout Copenhagen and Denmark!
Which Denmark museums are free to enter?
There are more than 20 free museums in and around the Copenhagen area alone. These include the Banking and Savings Museum, The Design Museum and the Post Museum Denmark are some examples of free options in Denmark.
What are 4 must-visit museums in Copenhagen?
The Museum of Copenhagen, the Louisiana Museum of Modern Art, the Kunsthal Charlottenborg, and the National Museum of Denmark are some of the must-see museums in Denmark!
Conclusion
We tried to capture for you as much of Denmark's museum offering as possible in one short guide, but there is so much more to uncover in this amazing country. If you visit any of these Denmark museums – or find another one that we haven't listed please let us know!
And once you have picked a few for your list, head on over to our Danish attractions page to see what else you can see on your trip.
Related Articles