One of just two safari parks in Denmark is the Givskud Zoo, a widely popular attraction in the Jutland region of Denmark.
Founded in 1969 by Jacon Hansen, it was originally known as Loveparken ("The Lion Park") as it only featured free-roaming lions in its large safari-like enclosures.
It was the first of its kind in the country and it did not take long until it gained massive interest and attention.
Over time the zoo started to accommodate other animals and it eventually became much more than a lion park.
What to Expect from Givskud Zoo Today
Today Givskud Zoo is home to over 700 animals belonging to more than 70 different species with about a third classified as endangered.
It still maintains the largest pride of lions in Denmark and added exotic animals like alpacas, antelopes, giant otters, elephants, gazelles and gorillas.
Some rare and interesting species in its stead include the Arabian oryx, Hawaiian geese and Przewalski's horse.
Although in a rather remote location in Vejle, Givskud Zoo has become one of the most visited parks in Denmark with visitors reaching an average count of 300,000 a year.
Those who are visiting the zoo can take their car inside and follow the marked safari routes.
Alternatively, the zoo also offers a guided tour via the Safari Bus or visitors can also opt to do their exploration on foot.
Aside from being able to see most of the animals up close, there are also designated feeding times for the different animals.
Nearby is a hostel for visitors who plan to stay overnight or longer.
What Does The Givskud Zoo Logo Look Like?
The Givskud Zoo logo is made up of the Zoo, in red font, with the two letter "o"s merging together so as to give space for the word "Givskud" which sits spread across the 2 letters.
It has become an instantly recognisable logo for Zoo fans, and you can buy branded merchandise in the store during your visit.
Is the Givskud Zoo Dinosaur Park Cool? 50+ Dinosaurs!
What little kid (and big kid too!) doesn't love a Dinosaur museum?
The experience is even better if it is located in a park with live animals as well. Step back over 150 million years to get an out of this world experience.
It is an interesting complement to both the zoo and the original safari park. The Dinosaur Park features around 50 types of Dinosaurs, so there is certainly something to keep all the family interested.
The exhibits are placed throughout an outdoor area, perfectly landscaped to take you back to the time when these scary creatures roamed the earth.
Check out the big hitters such as:
the scary T-Rex
the vegetarian Triceratops
nd the long necked Diplodocus
So in answer to the question "Is the Givskud Zoo Dinosaur Park Cool?" the answer is a resounding "yes"!
What to Expect from Givskud Zoo Safari?
The safari area was the first opened in the zoo, and continues to attract day-trippers from all over Denmark.
It offers a self-drive experience, where you can drive through African and South American themed areas, and experience lions, giraffes and other wild animals as you go.
Alternatively, you can take the "safari bus", meaning an experienced park guide accompanies a tour group throughout the park, giving out useful information and facts on the animals as you go.
The price for the safari bus is not included in the tour ticket.
Givskud Zoo Utopia – Animals You Can See
The third element of the park – after the dinosaur area and the safari experience – is the Givskund Zoo itself.
Here you can expect to see all the usual attractions available at a zoo, from monkeys to otters and elephants to camels.
Attend feeding and information sessions at set times, and watch the animals as they wander around settings that have been created to make them feel right at home.
Are there baby animals we can see at Givskud Zoo?
The zoo is a live environment with its own breeding programme, so you can expect that you can see baby animals or those less than one year old throughout the year.
Ask one of the guides where the best chance of seeing a baby animal is during your visit. Our favourite are the monkeys and the gorillas!
Are there any endangered species at Givskud Zoo?
The zoo was too late to save the dinosaurs! But, over a third of its approximately 50 species are on the endangered list.
The zoo has a mission to support those endangered species in their care and a number of these species have had "captive born" offspring.
With increasing pollution and other man-made dangers affecting many natural habitats globally, sometimes unfortunately a zoo is the best chance of a certain species survival.
Want To Meet Givskud Zoo Gorillas? Here Is What Will Happen
Head to the Gorilla enclosure for some fun!
These animals always deliver on entertainment.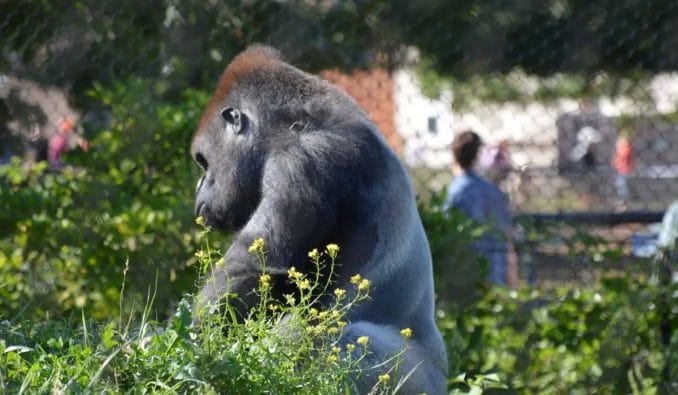 The Givskud Zoo welcomed its first gorilla back in 1998, and in 2000 the first gorilla Kidogo was born.
The huge Gorilla area features an outdoor deck of over 1200m2 where you can watch these fun creatures play, feed and frolic around.
What Are The Most Fun Activities For Kids?
There are plenty of things to do with kids in Givskund Zoo!
These include a play park with loads of slides, swings and places to explore. In the same area you can also pet a goat, or plan for gold.
There is also a tepee camp where – at weekends – you can try your hand at baking bonfire bread for no extra cost!
Does Givskud Zoo Have A Facebook Page?
It surely does, and it's a great way to keep up to date with the developments at the zoo, special events and offers.
The zoo will also publish its spring opening date after the winter season – usually in the first few days of April – on its Facebook account.
Givskud Zoo Tickets Price
Get piece of mind when travelling to the zoo by booking your tickets in advance.
These tickets will be valid for any opening day, so you have full flexibility when planning you trip.
Adult 3 area (Zoo, Dinosaur Park and Safari) – 230DKK
Child 3 area (Zoo, Dinosaur Park and Safari) – 130DKK
Children 3 and under – free!
Givskud Zoo Opening Hours – Does Givskud Zoo Open In Winter?
The zoo is shut in the winter months and usually opens again in the spring.
It is usually open April to October. Opening times vary depending on the season.
In early spring the park is usually open between 10 and 5pm and as the weather gets warmer the hours lengthen.
In July the park shuts at 8pm. Get the full scope and overview of the times directly here.
Givskud Zoo Map & Location
The zoo is to be found on the Jutland peninsula, about a 2.5 hour drive from Copenhagen and one hour from Odense.
Billund airport is the nearest airport (about 20 minutes away)
Check out a map of the zoo here to plan your journey!
How To Get From Billund To Givskud Zoo?
A taxi from the airport to the zoo will cost about €50.
You can also get there by taking two busses – bus 43 from Billund centre to Vejle traffic centre, then another one (line 211) direct to the zoo.
This is considerably cheaper than a taxi, expect to pay less than €10 total.
Nice Places to Eat Nearby: Traditional Danish Food & Atmosphere
There are lots of places to eat within the zoo such as Baobab, but it is all "theme park food" so expect lots of French fries…
For authentic and traditional Danish food head back into Billund.
Restaurants such as Refborg offer delicious Danish food and style and the traditional hygge atmosphere for which Denmark is famous.
The Billund GastroPub offers modern design and style combined with traditional Danish hospitality and delicious eats.
5 Best Hotels near Givskud Zoo
Hold the phone! You can stay in the zoo you say?
Yes you can!
Before we even tell you about some of Givskud Zoo hotels nearby, let's talk about the accommodation IN the zoo.
1. The Givskud Hostel – best for family bargains
Travelling with the family can get expensive, as you soon realise the cost of accommodation, tickets, food and refreshments starts to add up.
Offset some of the financial pressure by booking a room in the hostel at the zoo! You'll have direct access to the park and more change in your pocket.
A family room for 4 people is 1000DKK per night in the high season. Check out the whole range of prices online here.
2. Sleep on the Savannah
It's every kids dream to go on safari, and what better way to finish off a day at the zoo than a stay in a safari tent on site!
The tents sleep up to 8 and the price includes linen, a camping kitchen and your park entry. You can only keep on the campfire. The campsite is open in the summer months only.
3. Hotel Svanen Billund
Away from the park there are more traditional hotel options – such as the Svanen.
Not only is the hotel handy for the zoo, it is also only half a kilometre from another favourite Danish attraction – Legoland!
Individual rooms in their own buildings, early breakfast options and freer parking are included in the price of around €150.
4. Munkebjerg Hotel
With rooms overlooking either forest views or the fjord, the Munkebjerg is another great and handy option.
The modern décor is another bonus, as is the indoor pool, which is a welcome relief after a long day at the Givskud Zoo!
A double room with breakfast starts from around €180. Check out live pricing here.
5. The Lodge Billund
Just 300 metres from Legoland boasting not only a pool but an indoor and outdoor playground, the Lodge Billund is a great place to return to after a trip.
Bright and airy doubles with breakfast start from around €220.
Frequently asked questions about Givskud Zoo
How many animals does Givskud Zoo have?
There are over 50 different kinds of animals available to see in Givskud Zoo!
What activities are available at Givskud Zoo?
Aside from checking out a whole bunch of animals, kids can play in the play parks, you can eat in many of the on-site eateries, and even feed the animals. Don't forget to check out the dinosaur park as well.
Can I sleep in Givskud Zoo?
Guests can stay either in rooms at the Givskud Hostel or in a tent at the Sleep In The Savannah campsite.
Conclusion
Givskud Zoo is an awesome bolt-on to any Denmark trip.
Most people have heard of Legoland, and the proximity of the 2 parks means you can have a great family trip planned.
You can fly direct to Billund or make it part of a wider trip from Copenhagen or Odense.
Let us know what route you choose as you plan your trip – we have multiple resources on Copenhagen and Odense on our website to help you get started.
Related Articles