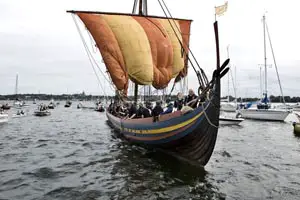 The Scandinavian region is known as the stronghold of the Vikings. Denmark is one country in this region where the Vikings left their trace and for travelers who wish to visit these spots, we'll give you tips on where to look for these areas.
You have a choice as to which places to go to. Your options are the Viking ships, monuments or their strongholds.
First off, the ships. In the ancient and medieval times, the Vikings were known to have traveled on ships called Dragon Ships with a distinctive dragon head or circular object at the front and back. Their ships were of different sizes. The knarr which is German for ships was used for transporting cargoes weighing up to 24 tons. The smaller ones were called karves used to transport people as well as livestock and goods.
To see remains of this traditional Scandinavian boat and how it's made, the Viking Ship Museum in Roskilde, Denmark is the place to go. You can even try riding on one of these ships from the museum harbor on Roskilde Fjord and practice your rowing skills.
Next stop are the Viking monuments. In Funen, you can check out the Ladby ship which served as a ship burial in the 19th and 10 centuries. This is the only ship of its kind found in Denmark specifically on Funen island's Kerteminde.
Another monument worth visiting is the Glavendrup Stone Ship setting also on Funen where you will get to see the runic stone dating back to the 10th century. The runic stone here features the longest text (210 characters) on such a stone found in Denmark.
For the largest Viking burial site in Denmark, you have to visit the Lindholm Mound in Aalborg. Here you will find more than 700 burial and cremation sites that date back from 400 to 1000 A.D. and are marked by stone settings of various shapes.