The Copenhagen Metro is a fast transit system that covers a distance of 20.5 kilometers. It serves the areas of the Danish capital as well as Frederiksberg and Tarnby in Denmark.
The system has two lines with 34 driverless electric trains. Nine of its stations go through a tunnel about 20 to 30 kilometers below ground level. Each train can seat 96 people and accommodate some 204 more standing passengers.
All trains are controlled by the ATO or the autopilot. The Metro already recorded a total of 50 million passengers served as of 2009. The City Circle Line consisting of two more lines started to operate in 2018.
Details about Copenhagen Metro Stations
There are 22 stations in all on the network managed entirely by a computer system. The dense rainbow that is the Copenhagen metro map might be scary.
But as a tourist you should concentrate on the M1 and M2, respectively green and yellow lines. These two go around the places mostly visited by tourists. The trains run from 5p.m.till 12 p.m. daily and through the night on weekends.
Here is a Copenhagen Metro Map that focuses on the main areas for tourists. You will find the main attractions of the Danish capital along this route. You just need to plan how and when to visit!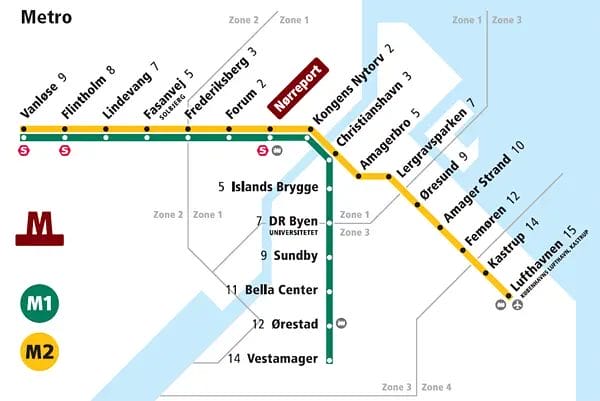 New Copenhagen metro line opened in 2019
The Metro Cityringen Copenhagen is a new section of the network that was opened in 2019 to great acclaim. The 17 stations form a loop and are serviced by driverless trains like the rest of the network.
Rumoured to have cost more than $3 million, it is one of the biggest projects ever undertaken in the city. Travellers can cross to the M1 and M2 at Kongens Nytorv and Frederiksberg stops. Other stations on the City Circle Line include Central Station and City Hall.
Getting Copenhagen Metro Tickets
Here's some useful information on Copenhagen Metro Fares:
The basic ticket costs DKK20 (€2.70) for adults and DKK10 (€1.40) for children
Normal tickets are valid on all three kinds of transportation for an hour (bus, metro and tram)
A per journey ticket is also available and is good for 10 journeys. The price is DKK125 (€16) for an adult and DKK60 (€8) for a child.
To save even more you can buy a 24-hour ticket or a Flexcard.
A 24-hour ticket is good for travel within all zones for a 24 hour period. The price is DKK115 (€15) for an adult and DKK58 (€7.50) for a child.
A Flexcard allows you unlimited travel for seven days within the zones indicated on the card. The adult Flexcard for two zones costs DKK200 (€26.50).
Children between 12 and 15 are entitled to a discount and up to two can ride with the same ticket. Full price tickets allow an adult to bring along up to two children under the age 12 for free. Between 1a.m. and 5a.m. the fares for public transportation are doubled.
For longer stays, there is a Copenhagen Metro monthly pass. Although they are usually not something that tourists will need.
Copenhagen Card for unlimited transport
Another way to get on the network is to make use of the free transport card that comes as part of the Copenhagen Card. This all encompassing city pass not only covers the major attractions, but also the transport network. Check out the complete guide to the Copenhagen card.
Info about Copenhagen metro card & ticket fine
You need to validate your ticket before boarding the metro if it is a time restricted ticket – for example, a 24 hour ticket. Single journey tickets already are time stamped when you get them.
And don't try not to buy a ticket – you will get hit by a fine of 750 DKK! That's about €100.
More about Metro Copenhagen Opening Hours
The metro is open 24/7! Which is great if you arrive super early.
Expect to wait about 15 -20 minutes during the night, and only 2 minutes between trains in rush hour.
Copenhagen Metro Map, Zones & PDF
Check out the entire subway map Copenhagen and its zones below to help plan your trip. The Copenhagen Metro Plan pdf is a useful thing to take with you on the trip.
Points of interest by metro station in Copenhagen
Here are a few metro stations you have to get off at!
Kongens Nytorv
Frederiksberg Allé
Christianshavn Torv
Amager Strand
Norrebro

Multicultural food experiences
Impressive Facts & Figures about Copenhagen Metro
98% of trains run on time!
The construction of the city circle line was the largest project in the city in over 400 years!
79 million journeys were made on the metro in 2019
The Metrorail 2008 award went to the Copenhagen metro for its punctuality and safety.
240,000 daily users take the metro in Copenhagen
The process of building Copenhagen Metro – Explained
Building any metro station is a complicated process. In 2019, the City Circle line was completed. It was a long time in the planning. Four tunnel bores made their way through 2 15km long tunnels, creating the routes. The soil that was taken from the ground was used elsewhere in the city.
Frequently Asked Questions
How to use a Copenhagen card on the metro?
No need to validate the Copenhagen Card for the metro – just make sure you are ready to present it to a ticket inspector.
How much is a metro ticket in Copenhagen?
The basic ticket costs DKK20 (€2.70) for adults and DKK10 (€1.40) for children
How to buy metro tickets in Copenhagen?
You can purchase Copenhagen Metro tickets from ticket offices, vending machines at stations and also from bus drivers.
How much is the metro from Copenhagen airport to city centre?
€4.80 for a one way ticket. The Copenhagen to airport metro journey takes about 15 minutes.
Copenhagen airport to city centre metro cost?
You can pay online easily (in English) . Use this link here dinoffentligetransport.dk
What time does the metro close in Copenhagen?
It doesn't. The Copenhagen Metro is open 24/7!
What time is the last metro in Copenhagen?
Conclusion
Now you know how to ride the Copenhagen Metro you are going to be able to plan your journey. Check out all the great places to visit and the hotels on the rest of the site. We hope you make the most of your trip to Copenhagen.
Related articles