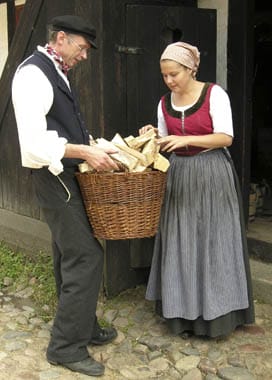 Isn't it that in order to fully learn about the history of a certain place, one needs to visit its old town? Right, because it is here where you will get to see the original structures, the ruins of the old structures and meet people with direct relations to the genuine natives of the area. If an enriching experience is what you're after, then the old town is the right place to be. 
In Denmark, you can experience a historical Old Town in the open air museum "Den Gamle By" in Aarhus. Den Gamle By is an open air village that is literally a museum because of the collection of historical buildings in place. The 75 houses that visitors can see here came from 20 towns around Denmark land. 
While here, one can have a feel of what it was like being in a traditional tea garden, shops, market town or Danish homes in the olden days even during the time of famous Danish author Hans Christian Andersen. Some of the historical buildings that can be found n the Old Town are the coin master's mansion from Copenhagen, the mayor's mansion from Aarhus and the storage house from Aalborg, the oldest structure in the village. 
Exhibitions are aplenty as well giving visitors a rich background of Denmark. Among the museums worth exploring in this area are the Danish Poster, the Danish Museum of Clocks and Watches and Den Gamle By's major toy museum. 
For tourists who love plants and flowers, there are five gardens in the area that date back to the middle 1600s to the early 1900s. The gardens feature exotic flower species in a beautiful setting. 
This first open-air museum of its kind in the world accommodates around 3.5 million people each year. Tourists coming here are sure to gain a world-class experience they will never forget.