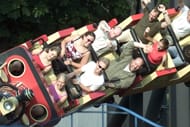 If you have never been to Dyrehavsbakken you are in for a real treat, as it is the world's oldest intact amusement park. Dyrehavsbakken is located in Klampenborg, Denmark and has many interesting things that you will want to take a look at when you visit.
Most people do not realize that Dyrehavsbakken was started in 1583 when Kirsten Pill discovered a natural spring and would take people so they could get a taste of the spring water. At that time fresh water was in very short supply in Copenhagen so Dyrehavsbakken was a very popular attraction. As the crowds grew individuals started to realize that financial profits could be had from the visitors. This is when they started to offer more products such as food, and pottery in which to collect the water in. People started to realize that Dyrehavsbakken could be something big and over the years that is exactly what happen to Dyrehavsbakkene.
Today Dyrehavsbakken is also known as Bakken and Bakken has not lost any of its old world charmed at all. Bakken has still many of the rides that you probably remember as a kid, but the one thing that has changed is how businesses have built up around the park. Over 160 businesses now call Bakken home and that number seems to grow all the time. Kids will tell you how much this place still is fun to be around and enjoy a sunny afternoon. Danish culture is alive and well in this area and one visit to this community you will definitely see that. It is hard to believe something that date backs over 400 years is still around, but it is. Many things are different, and many of the locals can tell you stories of how Bakken use to be and how much fun they had at this amusement park when they were kids.
As time passes the beauty and charm of Bakken finds a place in history that can never be replaced. If you ever travel to Bakken you will want to make sure you give this beautiful treasure at least a few moments of your time, as it will be worth it.