Don't get me wrong. I love a night in a hotel. There is nothing like leaving everything to someone else – making the beds, cleaning the room, doing the dishes.
For a 1 or 2 night stay, a hotel is still our accommodation of choice. But increasingly we are getting into the Copenhagen Airbnb groove!
For us, there are multiple advantages of picking this type of accommodation:
More privacy
More space
A living room in which to chill
A local experience – properties all over the city, in areas you wouldn't usually explore
meaning you can make a trip to the local market
If you pick a room only, you'll have the benefit of a free local guide
For families, a whole apartment or house is better. It's a great solution for kids
For a longer stay of 3 days or more, an Air Bnb can usually work out cheaper overall
Let's take a look at just what the a Danish Airbnb experience has to offer!
5 Criteria for Choosing The best Airbnb Denmark, Copenhagen accommodation
Whether you go for a traditional Danish home, a contemporary apartment or a flat share with a group of locals, an Airbnb Copenhagen exists for you ! One thing we recommend – choose an accommodation that offers you a sense of Hygge! Here are our top 5 criteria for choosing the best place to stay in Copenhagen.
Choose your location wisely. If you are staying in an apartment or house, make sure it is not miles from the centre, or if it is, that the transport links are good. There's no use saving €15 a night by staying out of town if you are away from the action. We have more on location below, as well as on our neighbourhood accommodation page where we mention Top Accommodations by Neighbourhoods & Budget
Don't go for bland. If you want standard accommodation, stay in a chain hotel. The beauty of Airbnb is selecting somewhere to stay with a great local twist. On the site, you will find loads of cool apartments kitted out with Danish flair. Check out this gorgeous example here, just a 15 minute walk to the main attractions.
A kitchen. Whether you go for the entire apartment or rent just a room, the kitchen is key. You will want a nice place to enjoy breakfast. And you will be able to take advantage of a trip to the market and cook!
Communal space. One of our top beefs with hotel rooms is chill out areas. Usually after a long day, the only place to relax is by lying on the bed. For families it is even more important to have a separate area in which to relax when the kids sleep.
Wifi! Goes without saying nowadays but make sure you check it – some places are still charging extra or worse – not offering it at all!
Is it better to stay in a hotel or Airbnb in Copenhagen?
It really depends on your preference!
Stay in a hotel if:
you are in town for 1 or 2 nights and expect to be out exploring for most of it
you are literally exhausted and don't want to lift a finger
the hotel offers facilities you simply cannot live without such as a spa, pool or gym
Choose an Airbnb Denmark, Copenhagen experience if:
you want to experience local life
you are in a group / family reunion situation
you have kids
you are a solo traveller looking to meet a local host
you love cooking and trying local dishes
you want to relax and chill in a homely environment after a long day sightseeing
Where should I stay for Airbnb in Copenhagen?
In our view some of the best places to stay in an Airbnb would be out of the main city centre area. Check out 3 of our favourite areas below:
Østerbro is a great choice for families and offers easy access to the tourist highlights with a quieter vibe. Located on the north side of the city centre, this upscale area is a suburban dream. Family friendly with plenty of green spaces and cafes, expect to pay around €150 for a 2 bed apartment per night.
If you are planning to party into the wee small hours, then Vesterbro is a better choice. You'll be able to fall into bed at 5am without having to wait for a taxi. Nørrebro is the place for foodies who love an international vibe . This vibrant area is a melting pot of cultures and chilled things to do. You will find it north west of the city centre. Here you can pick up a studio apartment from €70 a night
1 – the top AirbnB in the suburbs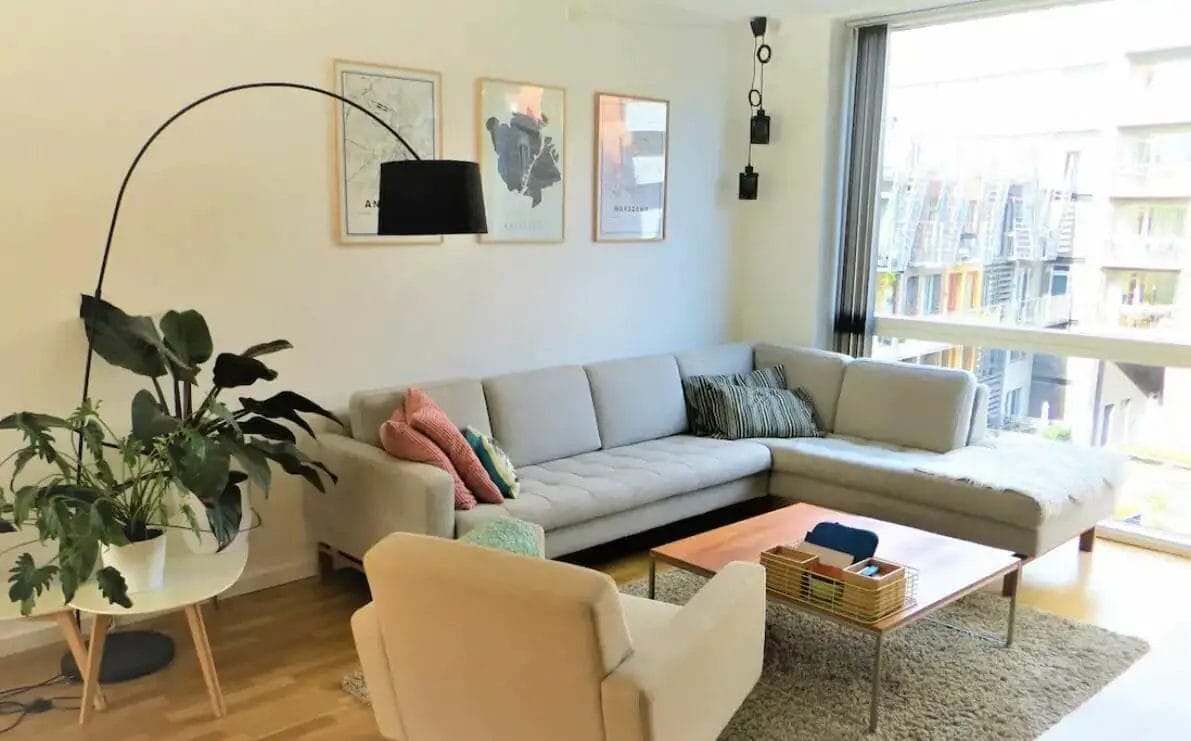 Check out this absolutely stunning apartment – €100 per night – which oozes Danish design cool. Vesterbro used to be a bit dodgy. Now, it's a student, artist and nightlife hub!
2 – the Best Airbnb in Copenhagen city center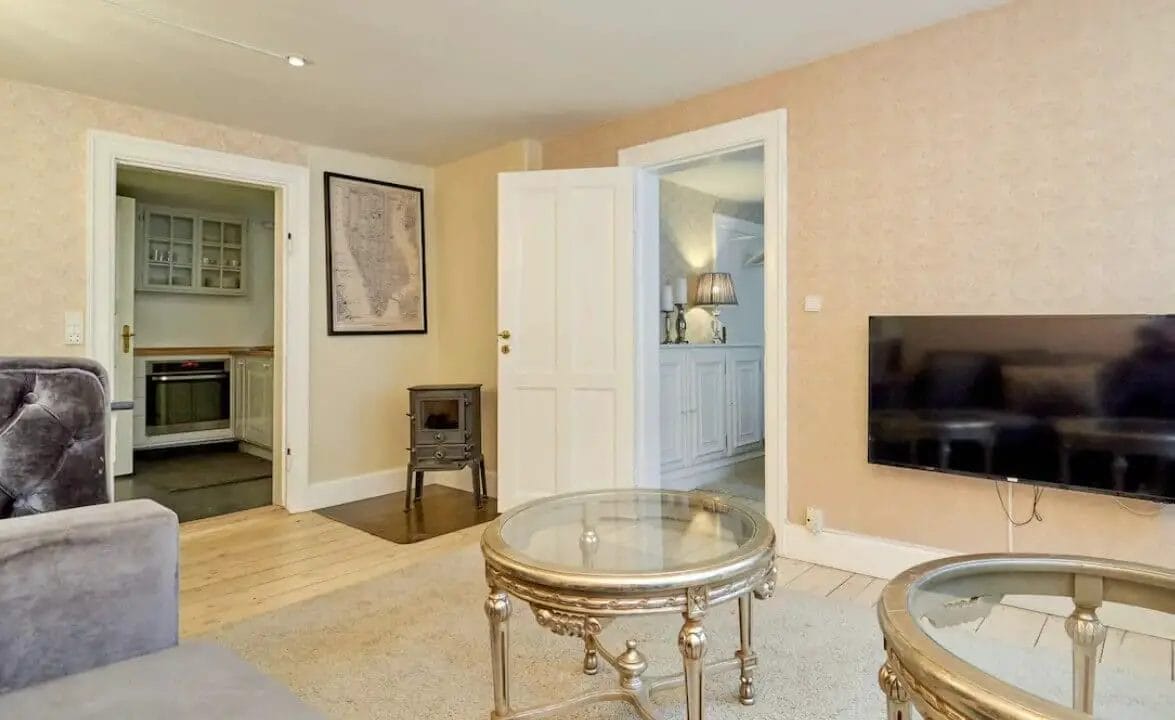 The centre of Copenhagen – Indre By – has the Strøget as a focal point. This pedestrianised area stretches from the City Hall Square right to Kongens Nytorv. it borders other areas such as the beautiful Christianshavn.
So, whilst some of us prefer some of the other areas listed above, Indre By also has a lot to offer. For those on their first visit to Copenhagen, it is a great choice – central, close to the main attractions and easy to get to.
This gorgeous apartment in an historic building right off the main pedestrian drag. Original features and modern amenities with classic old Danish style. It comes at 130 a night but is well worth it for the location and charm.
3 – the top Airbnb for a quirky experience Copenhagen houseboat
Simply stay on an Airbnb Copenhagen houseboat.
Copenhagen Airbnb apartments are certainly cool, but what about staying on a boat? With all the comfort of an apartment but with the extra quirk factor, a barge stay will make a holiday to remember.
This houseboat here is so well appointed, you wouldn't even know you are on a boat! With prices starting at over €180 a night that is a great price as it has 3 bedrooms! Perfect for groups. It is located in the very center of Copenhagen, and it certainly brings the wow factor.
4 – the best Copenhagen Airbnb for Danish style
Get the Danish style!
In recent years, Scandanavian design has become really popular. Even in my hometown in Ireland there are 2 shops specialising in Scandanavian decor! It is in, so why not experience authentic Danish style when in Copenhagen?
Near the central station, this luxury Danish design apartment has one bedroom and is newly renovated. Located in a stylish old building the apartment costs about €227 per night.
5 – the best Airbnb for groups – Space for freinds
For a group reunion – friends, family, colleagues – a stay in a hotel doesn't help you make the most of your time together. But finding the perfect property that offers communal space AND privacy is tough.
Look no more!
This beautiful apartment offers 4 bedrooms spread over 2 floors and a STUNNING communal area. The host also provides bikes so you can get around Copenhagen like a local.
Airbnb Copenhagen Experiences
Airbnb is also a great place to find out local experiences and things to do in Copenhagen! Why not try out some of our favourites below. You can find the full list here:
take a Segway tour of the main attractions (€70+)
Foodie heaven – take a food tour (€50+)
City of bikes – explore it like a local on a bike tour (€50+)
More about Copenhagen Airbnb regulation
In 2018 the Danish government introduced new legislation regarding Airbnb-type properties. The main thing to note is that it is legal, and the government welcomes the tourist market generated from this type of accommodation.
Nevertheless, there were some rules:
there is a cap on the number of nights per annum a host can rent out their own property
For Airbnb primary properties, because they work with the Danish government, this cap is up to 70 nights ( instead of 30 for unregulated accommodations)
Private rooms or summer homes can be rented with no restriction
In return Airbnb must share their information with the government (under strict privacy rules)
FAQs
Here are some of the most frequently asked questions we get about Airbnb in Copenhagen.
Is Airbnb legal in Copenhagen?
Yes indeed it is, so you can book with confidence that you are conforming to all local legislation.
Is Copenhagen Airbnb friendly to foreigners?
Absolutely – Airbnb works in cooperation with the tourist industry to ensure continued growth of this market.
Is Airbnb Copenhagen safe?
Airbnb is regulated in Copenhagen like in all other districts. Make sure you engage with your host over the chat function, and read all the reviews.
How many days can you rent Airbnb in Copenhagen?
The maximum allowable stay is usually 70 days for the majority of homes.
Conclusion
We hope we have given you enough information about Airbnb Denmark, Copenhagen. Now it is time to plan the rest of your trip! Check out some of our other resources here.
Related articles