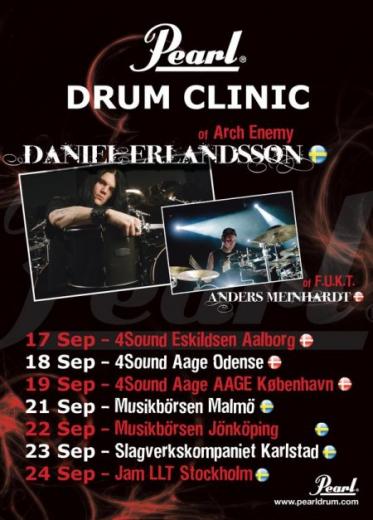 It's not often that activities aimed at teaching people the use of musical instruments go from one place to another. Music lessons offered in schools and by some private individuals in a certain location are okay but it's a different kind of thing when you get your lessons from the professional artists themselves.
Next month, Denmark will be one of the lucky places in Europe to host a drum clinic organized by a popular band. Arch Enemy's drummer Daniel Erlandsson will do the honors of performing his stuff and teaching interested music fans the basics and other tricks of playing drums. The drummer is doing this clinic for the very first time and will hold it only in Sweden and Denmark. While in Denmark, the drum clinic will visit Aalborg on September 17, Odense on September 18 and Kobenhavn on September 19.
Erlandsson will go on tour in Denmark and Sweden together with Anders Meinhardt of F.U.K.T. He will be performing sounds from the catalogue of the Swedish/German extreme metal band Arch Enemy plus some of his own compositions. The drummer will also share tips which helped him in his drumming skills through the years.
Daniel Erlandsson hails from Sweden. His brother, Adrian, is also a drummer of Brujeria and Paradise Lost. Both started learning to play the drums at a very young age but Daniel says he owes his love for the drums to his brother.
Playing the drums is no joke. It requires the coordination of not only the hands but the feet, eyes and ears. Unlike the guitar or the piano that requires one to focus on a single instrument, drumming involves several pieces. Apart from the bass and snare drums, there are the cymbals and the pedal that you need to use as well. In addition, you need to have a good ear to know how to coordinate your rhythm with the music.