The dense rainbow Copenhagen metro map might be scary. But as a tourist you should concentrate on the M1 and M2, respectively green and yellow lines. These two go around the places mostly visited by tourists. The trains run from 5p.m.till 12 p.m. daily and through the night on weekends.
Metro Tickets
The public transportation is based on 7 zone rings but the 2 central Metro zones encompass about all the attractions in Copenhagen that the tourists want to see. The basic ticket that covers these two zones for bus, train and metro is sufficient.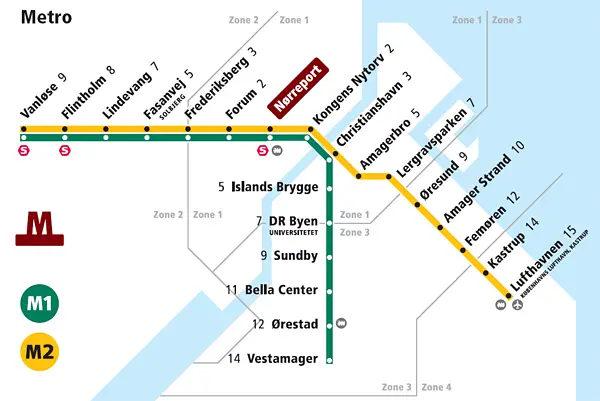 You can purchase Copenhagen Metro tickets from ticket offices, vending machines at stations and also from bus drivers.
Children between 12 and 15 are entitled to discount and up to two can ride with the same ticket. Full price ticket allows an adult to bring along up to two children under the age 12 for free. Between 1a.m. and 5a.m. the fares for public transportation are doubled.
The basic ticket costs DKK20 (€2.70) for adults and DKK10 (€1.40) for children and is valid on all three kinds of transportation for an hour. A per journey ticket is also available and is good for 10 journeys. The price is DKK125 (€16) for and adult and DKK60 (€8) for a child. To save more purchase you can buy a 24-hour ticket or a Flexcard. A 24-hour ticket is good for travel within all zones for a 24 hour period. The price is DKK115 (€15) for an adult and DKK58 (€7.50) for a child. A Flexcard allows you unlimited travel for seven days within the zones indicated on the card. The adult Flexcard for two zones costs DKK200 (€26.50).